Adams Rite: A Century-Old Legacy Of Quality Architectural Building Hardware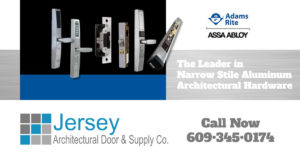 Adams Rite has earned a reputation for quality in the architectural building hardware industry over the past 100 years – a reputation the CA-based company continues today with superior deadlocks, deadlatches, flushlocks, exit devices, electric strikes, door trim and other accessories. The company designs its products to complement the clean lines of modern doors while still meeting strict safety and access needs.
The door hardware manufacturer first opened its doors at the turn of the 20th Century, then known as Pacific Brass Manufacturing Co. Sold and renamed Rite Hardware Company in 1927, one of its stockholders, George R. Adams, purchased the company outright, taking his son Arthur on board in 1931 to form the Rite Hardware Manufacturing Company.
The company grew alongside the burgeoning U.S. aircraft industry, creating aircraft locks, latches and handles division to outfit planes like the Douglas DC-3. In 1999, the aviation division was sold off, and in 2006 Adams Rite Manufacturing was acquired by ASSA ABLOY Group, the Swedish international lock manufacturer and world-leader in door opening solutions. Today Adams Rite is a group brand of ASSA ABLOY, part of its Electromechanical Specialties & OEM Group based in Phoenix, AZ.
Quality Architectural Building Hardware From Adams Rite, Shipped To Your Door By Jersey Architectural
Jersey Architectural Door & Supply Co., much like Adams Rite, has been in the residential and commercial door hardware industries for going on a century. Jersey has also earned a name for itself among its Tri-State area customers for supplying only the highest quality architectural products. So Jersey Architectural and Adams Rite are a natural fit, and many Adams Rite products can be found on display everyday at our Atlantic City showroom.
Our in-house team of door technicians and architectural consultants will give you the professional advice you need to get the Adams Rite door hardware that's right for your project. Here at Jersey, advice from factory trained veteran carpenters and builders is always just a quick, easy phone call away. And shipping is a snap. As a full-service architectural supply house, Jersey will ship your Adams Rite products directly to your doorstep. Simply choose from our 1, 5 or 10-day QuickShip™ options.
And for installation help, Jersey retains a team of industry-certified carpenters to make sure your Adams Rite architectural building hardware products go in right the first time.
Have More Questions About Adams Rite Architectural Building Hardware Products Offered By Jersey Architectural?
Get Your Questions Answered – Give Us A Call Today At: