For Extra Heavy Duty Fiberglass Institutional Doors, Seek Out Corrim Doors First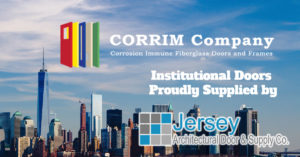 The strength of fiberglass reinforced polymer (FRP) makes it an ideal material for building the toughest, longest-lasting institutional doors on the market. Corrim Company has mastered the art of crafting fiberglass doors over its more than 30 years of experience in the construction materials industry.
The Oshkosh, WI manufacturer's fiberglass doors come with lifetime warranties – guarantees that these doors will never rust, even in highly corrosive environments. Also, Corrim institutional doors are non-conductive, are energy-efficient because they act as excellent insulators, are non-magnetic, have a great strength-to-weight ratio and feature smooth surfaces that can withstand everything from cleaning agents to animal wastes.
The Corrim Company also builds door frames, fixed windows, fixed wall louvers and other door accessories. They specialize in fabricating both fully-customized door systems and a complete range of door panels and core types, like polyurethane cores, end-grain balsa cores for impact resistance, phenolic honeycomb cores for economy or mineral cores for fire-resistance. It finishes its doors with either a polyurethane or matte gel coat finish. Customers can customize their doors in 1/16" increments regarding height, length and width. For color, Corrim Doors provides four standard factory finishes, or can ship their products primed for field painting. Corrim offers 25 optional colors, and with its custom color matching capabilities, can build doors with any specific color finish.
Corrim's FRP Polyfire™ fire doors are manufactured with fiberglass reinforced polymer and are available with 20 through 90-minute UL ratings. Their cutting-edge fire doors are used in a variety of different applications, from pharmaceutical labs to water treatment facilities to industrial floor spaces. Like Corrim's other fiberglass door products, its fire-rated door face sheets are available in smooth, pebble or wood-grain textures.
Corrim also offers hurricane-rated fiberglass reinforced polymer doors that meet the Florida Building Code and High Velocity Hurricane Zone requirements for durability and wind/impact resistance. It builds hurricane doors with pultruded components having a minimum of 50 percent fiberglass for maximum strength and durability.
Top-Quality Fiberglass Corrim Institutional Doors, Shipped To Your Door By Jersey Architectural
Here at Jersey Architectural Door & Supply Co., we know what it takes to build a long-lasting institutional door that won't wear out with heavy use. That's why we regularly stock Corrim Institutional Doors for our FRP fire-rated and hurricane-rated door customers.
Corrim's extensive catalog of fiberglass doors can be found on Jersey Architectural's list of door brands it carries. And when it comes time for installation, our team of factory-trained, industry-certified carpenters will work with your organization to get the door you need installed just the way you want. Corrim offers transom, lite and louver options, and a quick call to Jersey's in-house team of architectural advisors can get you valuable guidance about which custom Corrim door is right for your building.
Want To Know More About Corrim Institutional Doors Offered By Jersey Architectural?
Give Us A Call Today At: