South Jersey's Premier Double Glazing Installer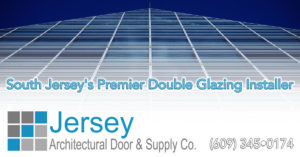 For nearly 100 years now, Jersey Architectural has been bringing our customers in the tri-state area quality glazing products at competitive prices. Throughout our history as a double glazing installer, we have helped homes and businesses in the New Jersey, New York and Pennsylvania areas achieve greater energy efficiency, sound privacy and security by installing double glazed windows. Our experienced, factory-trained staff is dedicated to delivering one-on-one service throughout the installation process, whether it be for new construction or retrofitting of an existing building.
At Jersey we take pride in maintaining a high level of professionalism and customer satisfaction, and ensuring our business partners get the window products they need installed at a competitive price. Our in-house team of technicians and architects are ready to talk with you about the specific needs of your project, and to help pick out the right double glazed windows for your building.
Double Glazing Installed A Range Of Sizes And Thicknesses
As a double glazing installer, Jersey Architectural stocks a wide variety of double glazed window sizes and pane thicknesses. We can also help our customers decide on what insulation medium will work best for their project, whether air, inert gas or vacuum seal. As a rule of thumb, the wider the space between the double glazed panes, the more energy efficient the window. The level of heat retention of glazed windows also depends on the gas between the panes – common inert gasses used in double glazed window manufacturing include argon, krypton and xenon.
Manufacturers make windows with spacing anywhere from 6mm to 20mm. Typical double glazed windows have two glass panes of identical thicknesses, but a range of different thicknesses between the inside and outside pane can be used for special applications – especially for sound privacy and security needs. Manufacturers make the spacers between panes out of architectural foam or aluminum, and include desiccants to remove moisture trapped between the panes and preventing condensation from forming.
Double Glazed Windows For Soundproofing And Security
Jersey Architectural is a double glazing installer well-acquainted with the additional benefits of double-pane windows. Along with the obvious improved energy efficiency, double glazed windows also offer noise reduction and greater structural security. The most commonly used glazing configurations for sound dampening include laminated glass with varied thicknesses of the middle air layer and different pane thickness. In general, the greater the width of the air layer between the panes, the greater its positive effect on sound dampening. Filling the air layer with a gas like sulfur hexaflouride can also help improve acoustic attenuation.
Have Questions About Jersey Architectural's Services As A Double Glazing Installer? Give Jersey A Call Today At