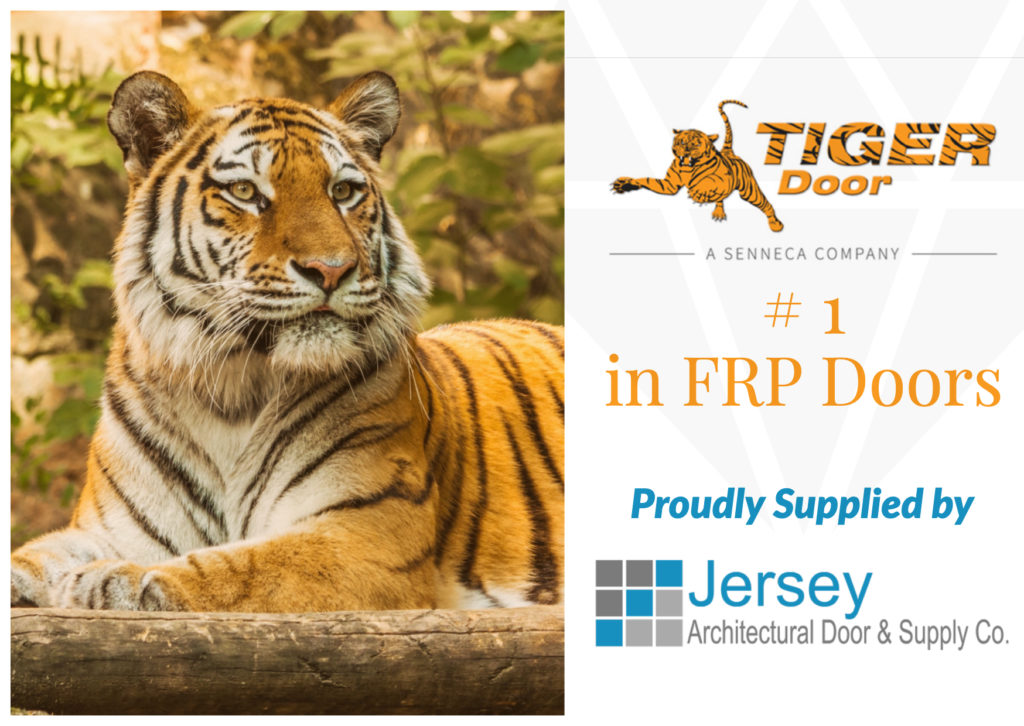 Doors With The Strength Of A Tiger
Tiger Door FRP commercial doors outperform the competition, even in the most severe and demanding applications. For more than 40 years, the Brownsville TX-based door builder has been rolling out innovations in Fiberglass Reinforced Plastic (FRP) commercial door design in order to create doors that are germ, fire, hurricane and heavy-abuse resistant. Tiger's craftsmen hand fabricate every door they sell, and the company is small enough to offer custom sizes for individual customers. Tiger's product lines include a Heavy Duty Door Series, Extreme Duty UL Fire Rated and Extreme Duty Hurricane/Windstorm Door Series, and a Pharmaceutical Duty Door Series, in addition to fixed window systems, louvers, thresholds, and lighting kits.
Perhaps most importantly, FRP doors will never rot, rust, warp or splinter, offering considerable maintenance cost savings over wood or metal doors. Tiger Doors are built with heavy-walled fiberglass pultrusion profiles, and feature bonded fiberglass reinforcements in places designed for use with hardware. Tiger's standard commercial FRP door frame profile is a 5-3/4″ double rabbeted, 2″ face comparable with common hollow metal frame shapes. Every Tiger commercial door frame is customizable, too, with various expanded and compressed jamb depths, mullion profiles, 4-inch headers and many other available frame options.
Tiger Door FRP Commercial Doors, Shipped Direct To Your Door By Jersey Architectural
What happens when a small, top-quality Texas door builder teams up with an industry-leading Northeast door and window supply house? A winning combo. Here at Jersey Architectural Door & Supply Co., we know what it takes to build a FRP door that will stand the test of time and look doing doing it. That's why we stock a full line of Tiger Door FRP commercial doors for our clients who simply need the most durable, long-lasting entryway on the market for their building. Our factory-trained team of commercial door techs can answer any questions about Tiger Doors' product lines, and our business partners in the South Jersey area can even see Tiger's FRP doors in action at our Atlantic City showroom.
With our one, five or 10-day QuickShip™ options, getting new Tiger Doors for your building project has never been fasted or easier, with free ground shipping also available for your convenience.
Tiger Door's Extensive Product Catalog Of FRP Commercial Doors And Accessories Includes:
Want To Know More About Tiger Doors And Their Impressive Product Catalog Of FRP Commercial Doors?
Give Our Friendly Door Techs At Jersey Architectural A Call Today At: