A Century-Old Wood Door Services Company, Supplied By A Century-Old Door Manufacturer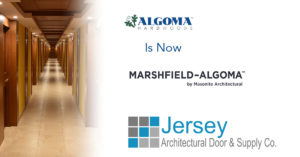 Jersey Architectural Door and Supply opened shop in Atlantic City back in 1923. A few decades earlier and a few states away, Algoma Hardwoods Inc. was just starting production at its facility in Algoma, Wisconsin. The burgeoning door builder was then known as the Ahnapee Veneer & Seating Company, and was one of the largest employers in the town. Last year Algoma consolidated with Marshfield Door Systems under the Masonite umbrella of companies; forming the company Marshfield-Algoma by Masonite Architectural. Although it was sad to see the company shut down shop as it had worked in previous years; they still do offer fine quality products from the Algoma brand.
Since those old days, the two companies had grown steadily throughout the past century, displaying decades of dedication to the commercial and architectural wood door industry, on the manufacturing and supply sides, respectively. As a company, Jersey Architectural was a natural match with Algoma Hardwoods Inc.: both are known for their high-quality wood door craftsmanship and commitment to customer satisfaction. In addition to a handful of other industry-leading wood door brands – like Woodgrain™,VT Industries™, Mohawk Flush Doors™, Harring™, ThermaTru™and Eggers™ – Algoma Hardwoods Inc. is a major supplier of the commercial and architectural wood doors we stock.
Throughout years of cooperation and admiration, we as a door supply house have grown to trust the workmanship of Algoma Hardwoods Inc., and our union-certified technicians are ready to supply its beautiful, elegantly crafted doors for your commercial or institutional projects.
A First For Fire Doors, And A Continued Legacy Of Innovation
Algoma introduced the first wood-faced fire doors to the wooden door industry in 1947. Now that Algoma has merged with Marshfield® Door Systems under the umbrella of Masonite Architectural they have the premier source for opening solutions in the architectural and commercial wood door industries.
As a single-source and complete line manufacturer, Marshfield-Algoma knows that a one-door-fits-all solution for every project is unrealistic. So the company has committed itself to finding ways to customize wooden doors. This allows distributors and supply houses like Jersey Architectural to offer our clients a great range of designs, functionalities and price points on top-notch wooden doors like those from Algoma, and quality installation services to match.
Marshfield-Algoma Produces Commercial And Architectural Wooden Doors In Several Series, Including:
Signature PC-5 / Novadoor Series: Maximum design flexibility with flush wood veneer doors. Choose from the broadest selection of veneers in the industry to complement your design aesthetic. Signature Series doors offer the greatest selection of options and design features including painted grade faces.
Marquis HPDL Series: Flush wood doors available with high pressure decorative laminate surface material. With a limitless amount of patterns and colors, decorative laminates offer you creative license to take your interior door design to the next level.
Durable Rhino Door Series: In areas where doors suffer heavy abuse like schools or health care facilities, Durable Door™ products are the clear choice. Constructed with durable surfaces on the face and edges, Durable Doors will not show excessive wear and function without protective edge guards or kick plates.
Stile And Rail Series: Offer high design for a multitude of applications. Design potential is endless – choose a wood veneer to achieve a classic look, a louver for ventilation or incorporate glass to add functionality and drama to a space.
Carte Blanche Series: A distinct yet affordable option, this series creates the illusion of stile and rail construction, its one-piece solid panel construction provides strength and stability while offering a blank canvas to create the design you desire.
Impressions Painted Series: These doors can influence a space or complement the interior design. Algoma manufactures these doors with three surface materials: Primed Birch, Primed MDO or Primed Hardboard.
Want To Know More About Algoma Hardwoods Inc. Products We Supply?
Give Jersey Architectural A Call Today At