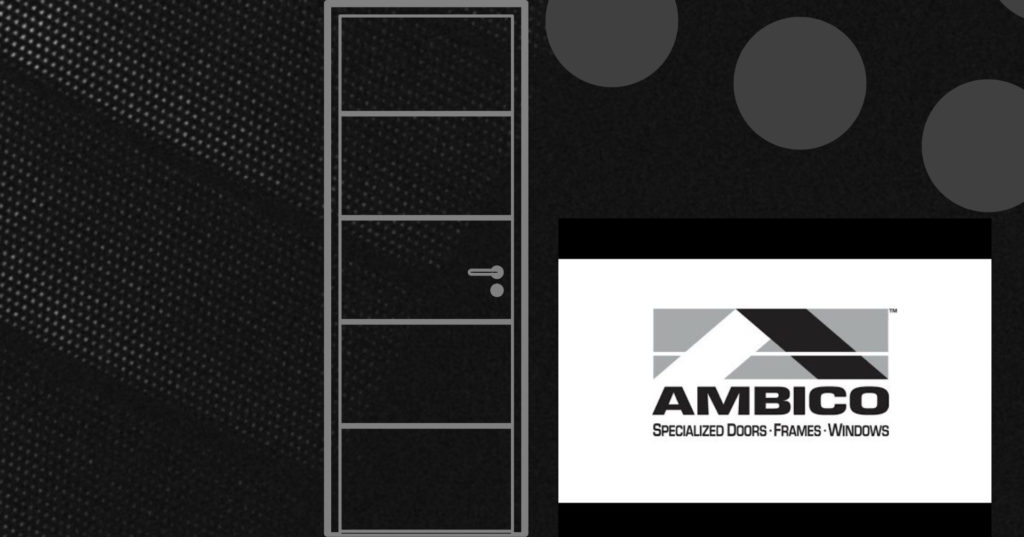 Waterproof, Lead-Lined, Bullet-Resistant And Every Purpose In-Between: Ambico Doors
Few intentionally renown door manufacturers can boast such a wide-range of purpose-built, technologically innovative institutional door designs as Ambico Doors. The Ottawa, Canada-based company has been building its famed institutional doors for the specialized door market for more than 60 years – performance doors intended for highly specific applications where safety, durability and reliability are paramount. Ambico builds lead-lined institutional doors and frames for hospitals and radiotherapy clinics where complete protection from radiation is critical, blast-resistant doors for use in government offices, military buildings and chemical plants, bullet-resistant doors for bomb shelters and secure areas, radio frequency-resistant doors for secure information sites – even tornado-proof assemblies for the storm proofing of institutional buildings.
The manufacturer's broad catalog of institutional doors includes models built to resist a variety of hazards: floods, fires, terrorist attacks, industrial accidents, radiation exposure, crime – even noise pollution. As an amazingly versatile door builder, Ambico has combined new technical innovation with the most cutting-edge manufacturing techniques to build institutional doors that can reliably resist all of these hazards and more. For building owners and contractors, it's a simple as searching Ambico's online product catalog of institutional door models and finding the resistance performance that's right for your project.
The fame of Ambico institutional doors goes far beyond just "resistant" doors, too. Ambico also builds handsome recessed panel steel doors to suit specific architectural and aesthetic requirements, brass and bronze-clad doors, frames and windows for decorative projects, and even stainless steel installations for architectural restoration and healthcare industry applications. All doors are have customizable options, offering "old world" aesthetic appeal with modern security and durability performance.
Performance Institutional Doors By Ambico, Shipped Direct To Your Door By Jersey Architectural
Here at Jersey Architectural Door & Supply Co., we know that it takes to build a performance door for a highly specialized purpose. We know that contractors and building managers are on the search for reliable, cost-effective and – most importantly – safe institutional door technologies to meet the demands of our changing political, environmental and economic times. That's why we regularly stock institutional doors from manufacturers with a legacy of trusted, innovative performance and reliability – manufacturers like Ambico.
Now, with Ambico's full catalog of specialty institutional doors available to Northeast builders with unbeatably fast shipping timetables through Jersey Architectural, getting Ambico performance doors shipped direct to your door is easier than you think. Simply choose from Jersey's one, five or 10-day QuickShip™ options, with free ground shipping also available for our customers' convenience. Or if you're in the area, come down to Jersey's Atlantic City showroom and see Ambico speciality institutional door products on display and in action for yourself, and get your door questions answered by our knowledgeable, friendly staff.
Want To Know More About Ambico Institutional Doors Offered By Jersey Architectural?
Give Our Friendly Door Techs A Call Today At: