An Internationally Renown Residential Window Manufacturer With Glass Solutions For Any Home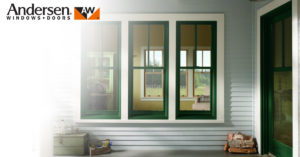 Andersen Residential Windows frequently make it to the top of residential building industry rankings, in terms of brand familiarly, frequency of use and overall product quality. In fact, Andersen was named the top window products brand in the world by Builder magazine.
The Bayport, Minnesota-based company builds everything window-related, from basic builder-grade replacement and new construction windows to skylights, custom windows, storm and impact-resistant windows and time period-appropriate replacement windows. Grossing more than $1 billion per year, Andersen is regularly listen within the top five of slots of Window & Door Magazine's Top 100 Largest Window Manufacturers, based on sales volume.
Andersen Corporation traces its roots back more than a century to its founding in 1903 by Danish immigrant Hans Andersen and his family in Hudson, Wisconsin. Today, Andersen is the largest window and door manufacturer in North America, employing more than 9,000 people in over 20 locations across the U.S. It's family of brands includes Silver Line brand windows and doors, American Craftsman brand windows and doors, Eagle Window & Door Manufacturing, and Weiland Sliding Door & Window.
New And Replacement Residential Windows From Top Brands Like Andersen, All In One Large-Volume Supply House
Here at Jersey Architectural Door & Supply Co., based in Atlantic City, New Jersey, we have the residential window selection homeowners and contractors need with the industry-leading brands and competitive prices they want. Our team of in-house technicians and architects can help you find the perfect residential door for your project, built by a manufacturer you can trust like Andersen Residential Windows.
And then it comes time for installation, look no further than Jersey. We use only certified union-trained window replacement specialists for all of our installs; just one of the many ways we've earned a name for quality and professionalism in the Tri-State Area.
Andersen Residential Windows offers 100, 200, 400 and A-Series windows, and Eagle Windows (purchased in 2005) are available under the E-Series. It builds residential windows in several distinct styles, including awning, bay and bow, casement, gliding, picture, single & double hung and specialty shapes.
Builders and homeowners can choose from a range of different window frame materials, including wood, vinyl, aluminum, fiberglass and Fibrex® (an Andersen-developed PVC polymer and wood fiber material 2x stronger than vinyl that performs better under extreme temperatures and won't fade, flake, blister or peel.
Andersen A-Series Impact Resistant Windows With Stormwatch® Protection.
Andersen builds its Stormwatch® series of windows with industry-leading impact resistance technology that doesn't take away from a home's aesthetic value. These windows provide safety from wind-borne debris, and eliminate the hassle and inconvenience of storing and installing storm panels or shutters.
Want To Know More About Andersen's Broad Offering of Residential Window Solutions?
Give Jersey Architectural A Call Today At