From Hung To Sliding, Sound-Proof To Bullet-Proof, Jersey Architectural Has Arcadia Windows Just Right For Your Project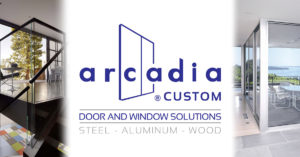 As a time-tested architectural door and window supply company, Jersey Architectural has formed strong partnerships with window manufacturers that offer vast catalogues of architectural glazing products. We strive to offer our customers a wide selection of windows in every style, so we regularly stock all different product lines from Arcadia Windows. Our in-house team of architects can help homeowners and commercial builders navigate Arcadia's catalog and decide upon the right thermal or non-thermal window to meet the needs of their next project.
As a company, Arcadia leads the national architectural fenestration products industry as a single-source supplier serving both the commercial and residential markets. Its products and systems comply with the United States Green Building Council's Leadership in Energy and Environmental Design (LEED) Green Building Rating System, with thermally insulated windows built to achieve LEED-certified R-values. For a quick reference guide to Arcadia Windows' dimensions and functions, find schematics for projected windows, hung windows, horizontal sliding windows, security windows and steel windows in Arcadia's Product Selection Guide.
The Catalog Of Arcadia Windows Spans All Forms And Functions
Arcadia manufactures windows in Hung, Sliding, Acoustic, Ballistic, Blast Impact, Security, Cold Rolled Steel and Hot Rolled Steel styles, as well as Window Hardware & Accessories. To complement its windows, Arcadia manufactures Hardware, Screens, Glazing Beads, Frames, Subframes, Panning, and Mullions.
Even if a homeowner or builder doesn't find the exact Arcadia Windows they need in the catalog, Jersey Architectural is here to custom-tailor any window to their project. Jersey has the skilled architectural technicians, machines and supplies to get our Tri-State clients the Arcadia window they need at a price that no other Northeast door and architectural supply company can beat.
For the luxury home market, Arcadia Windows operates its Arcadia Custom division specializing in fine quality windows for high-end residential applications. The company's custom window arm focuses on thermally broken steel, thermally broken aluminum and crafted real wood products.
Thermal Steel Windows: slender lines and minimal profiles dominate Arcadia Custom's line of steel windows, as well as an industry-tested durability.
Aluminum Windows & Window Walls: casement and sliding style windows in both thermal and non-thermal designs, and window wall systems.
Real Wood Windows: Arcadia Custom's offering of wood windows include Mahogany and Alder to Fir, Rustic Oak, Cedar, Walnut and Cherry, with every species having its own distinct aesthetic.
Want To Know More About Arcadia Windows? Have Questions About Custom Windows?
Let Jersey Architectural Help Find The Answer
Give Us A Call Today At: