Looking For A Reliable Supplier Of Architectural Building Hardware? Look No Further Than Jersey
For nearly a century, Jersey Architectural Door & Supply Co. has been providing the tri-state area with quality, durable and cost-effective architectural building hardware. We have formulated our business around knowing the right piece of hardware for the right job. And we offer on-site architectural design services at our Atlantic City headquarters. These two branches of our business have helped mom and pop shops and large corporate partners alike get the best in door and window supplies for decades.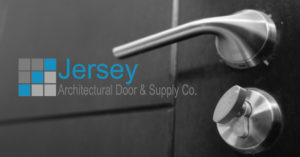 With Industry-Leading Brand Names Like Adams Rite™, Ingersoll Rand™ and PEMKO™, Jersey Has The Architectural Building Hardware You Need At The Price You Want
Jersey Architectural Door & Supply Co. has forged many long-lasting partnerships with top architectural building hardware manufacturers across the country, including:
Adams Rite™: A Phoenix, AZ-based manufacturer and brand of ASSA ABLOY that's been making door and door hardware products for commercial, industrial and institutional use. It's products include electromechanical deadlocks, dead latches, electric strikes, exit devices and integrated door assemblies.
Assa AbloyBest™: Headquartered in Stockholm, Sweden, ASSA ABLOY is a global leader in door opening solutions. The company is comprised of over 150 smaller companies in more than 40 countries, all part of the door security industry.
Glynn Johnson™: 

Known by the door industry as the "overhead door holder specialist," Glynn-Johnson has made a name for itself in state-of-the-art manufacturing and technology. One of the Allegion collection of brands.

Hager™ Companies: A 160+ year-old collection of companies that offer more than 6,000 different door hardware products all built to last.
PEMKO™: For more than 50 years, Pemko has been known as a top manufacturer of weatherstripping products. Since its acquisition by ASSA ABLOY, it has expanded its product line to include dozens of architectural door accessory products, including thresholds, fire/smoke gaskets, door bottoms, perimeter gaskets, brush seals, astragals, continuous geared hinges, fire and life-safety products, lites/louvers and sliding door hardware.
Rixon™: A leading North American provider of concealed closers, pivots and mechanical/electromechanical door holders.
Allegion™: A $2 Billion door security company with more than 25 brands sold globally, making everything from residential locks and portable security systems to commercial locks, exit devices, openers and closers, electronic access controls and workforce productivity solutions.
Roton™: A Missouri-based manufacturer of lead screws, lead screw nuts, ball screws and ball nuts for power transmission applications.
Stanley™: The original inventor of the automatic door, STANLEY Access Technologies remains a recognized leader in the automated door industry in North America. They produce cutting-edge automatic doors, sensors, controllers and related products for commercial, institutional, industrial and transit use.
Best™: An innovative lock manufacturer for more than 100 years, Best is known for inventing the original interchangeable lock core, and remains an industry leader in security solutions.
Have Questions About The Architectural Building Hardware Brands We Carry? Give Jersey A Call Today At
From Custom Wall-Mounted Brackets To Sliding Door Tracks To Key Card Readers, We Have The Right Hardware For Your Project
Our team of experienced architects and designers can deliver the one-on-one service to ensure you get the right hardware the first time. We pride ourselves on high levels of professionalism and customer satisfaction, and the role we have played in developing the New York, Pennsylvania and New Jersey Metropolitan landscapes.