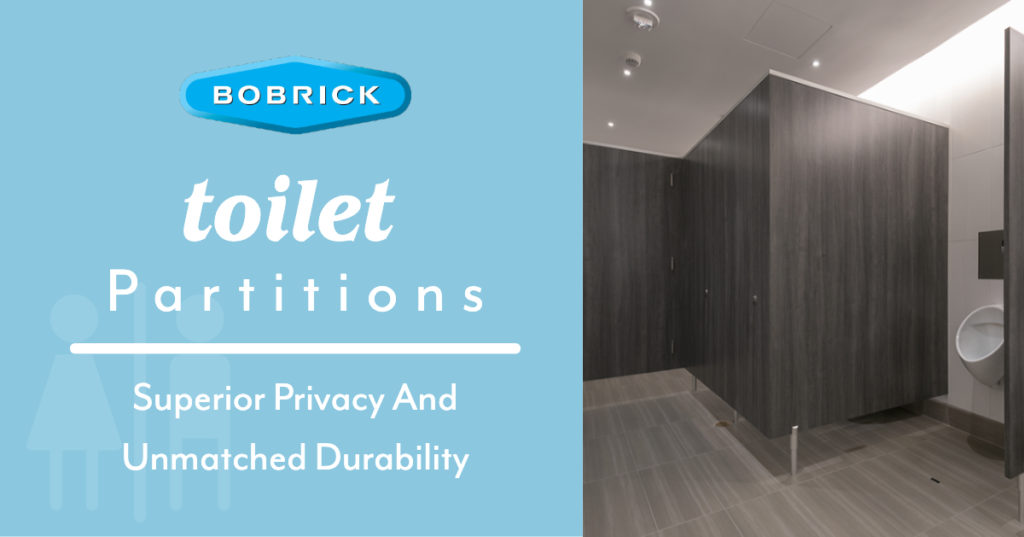 Achieve Superior Privacy And Unmatched Durability With Bobrick Toilet Partitions
Bobrick, the nation's leading manufacturer of non-metal bathroom compartments, builds top-quality toilet partitions and urinal screen systems to satisfy any restroom's requirements. Bobrick's impressive product catalog offers partitions built from several different material types, including Solid-Color Reinforced Composite (SCRC) partitions for heavy use and abuse applications, stylish Compact Laminate (CL) models for prestigious properties which still want that trusted Bobrick-brand durability, and High-Pressure Laminate (HPL) partitions with a range of versatile uses. Every Bobrick toilet partition is customizable with a selection of mounting configurations and colors to choose from, ensuring customers get the precisely perfect product their restroom wants and needs.
For more than a century, Bobrick has been leading the bathroom compartments industry. The company got its start as a washroom accessory manufacturer headquartered in North Hollywood, CA. Today, the partition builder has seven manufacturing divisions across the U.S., Canada and the U.K. It has supplied architects, developers, contractors and facility managers with top of the line, performance-engineered toilet partitions since 1970 that excel in areas of design innovation, customization, code compliance and long-lasting durability.
The Best In Bobrick Toilet Partitions, Shipped Direct By Jersey Architectural
Here at Jersey Architectural Door & Supply Co., we know what it takes to make building products that are truly exceptional. After all, we've been in the architectural building products business nearly as long as Bobrick has. That's why we regularly stock Bobrick compartments and partition products at our Atlantic City showroom and headquarters; to bring our customers the most privacy and best durability on the market at unbeatable prices, from a name they can trust. And with our one, five or 10-day QuickShip™ options, getting these high performance partitions has never been faster or easier. So why wait? Give our helpful door techs here at Jersey a call now or peruse Bobrick's impressive online catalog of toilet partitions, cubicle systems and accessories, and get the partitions that will make your restroom the best it can be.
Solid Color Reinforced Composite (SCRC) Bathroom Partitions: With solid color clear through and non-ghosting graffiti removal, these scratch, dent, moisture and impact-resistant partitions come with a 25-year limited warranty. Available in overhead-braced, floor-to-ceiling and ceiling-hung installation configurations.
 
Compact Laminate (CL) Bathroom Partitions: Highly durable with solid-core construction, Bobrick's Compact Laminate models incorporate an architectural black edge design, non-ghosting graffiti removal and a 25-year warranty. Available in floor-anchored, overhead-braced, floor-to-ceiling and ceiling-hung installation configurations.
For More Product-Specific Performance Information, Bobrick's Complete Line Of Toilet Partition Systems Includes:
Want To Know More About Bobrick's Extensive Line Of Non-Metal Toilet Partitions Offered By Jersey Architectural?
Give The Helpful, Friendly Door Techs At Jersey A Call Today At: