Top-Quality, Locally-Built Bridgewater Residential Interior Doors, Shipped Right To Your Door By Jersey Architectural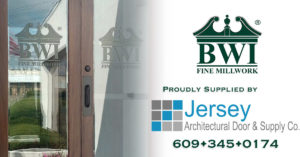 Over the past 30 years, Bridgewater Wholesalers® has built a name for itself as an industry-leading specialty millwork manufacturer and distributor. Its expansive interior door catalog includes wood, molded panel and Medium Density Fiberboard (MDF) doors across a range of product lines, with a handsome, perfectly fashioned door for nearly any interior residential installation. Bridewater's full interior door catalog includes barn doors, Eco-friendly door designs, natural wood finishes, clean/embossed lines and many other customizable options, making Bridgewater Residential Interior Doors a one-stop-shop for the interior door needs of Northeast homeowners.
Headquartered in Branchburg, NJ, Bridgewater has opened three new facilities in the past several years to offer faster, more efficient service to their customers across nine states. For Bridgewater customers in the Tri-State Area, Jersey Architectural Door & Supply Co. offers residential interior doors shipped right to their door at unbeatable prices. And Jersey Architectural has an in-house team of carpenters and architectural advisers providing residential door installations and replacements adhering to the highest industry standards.
Finding The Right Bridgewater Residential Interior Doors Is Easy With A Call To Jersey Architectural
Let our staff help you on your journey to find the perfect interior residential door. With almost a century of experience in getting Northeast homeowners the building materials they need at competitive prices, Jersey Architectural knows what it takes to build a handsome, durable interior door. We only do business with top brands, and Bridgewater's impressive offering of residential door products has earned itself a place among our exclusive list of business partner manufacturers.
For customers who want to research Bridgewater interior door product lines on their own, perusing the NJ-based manufacturer's catalog gives a good idea of the door styles, finishes and sizes produced by Bridewater.
Molded Panel Doors: With crisp lines and raised panel options, Bridewater's molded panel doors include elegant design elements to fit any home. Available in both hollow core and solid core styles.
Wood Doors: These laminated veneer lumber doors are tightly bonded with solid tension-resistant cores. Their veneers are arranged on edge, which lets the wood withstand the tendency to warp.
Primed MDF: These traditional stile and rail-looking doors come already primed, allowing homeowners to quickly apply finishes, while still standing up to high-traffic and wear & tear.
Have More Questions About Bridewater's Catalog Of Residential Interior Doors?
Want To Know More About Residential Interior Door Brands Offered By Jersey Architectural?
Give Us A Call Today At: