Install Cal-Royal Exit Devices In Your Building, And Make Opening Doors Effortless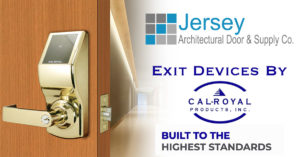 Cal-Royal has been building high-quality exit devices since its establishment in California in 1983. It currently operates three warehouses across the country in Commerce, CA, Texas and Florida, supplying innovative and value-added door hardware products and accessories to the building industry. Its product line is designed to comply with the American With Disabilities Act (ADA) for handicap-accessible entryways, and covers all levels of American National Standard Institute (ANSI) classification. Although a small and relatively new door hardware manufacturer, Cal-Royal already has the notoriety of providing hardware to a number of high-profile building projects in the past decade, including the MGM Grand Hotel in Las Vegas and several government buildings in Washington D.C. Cal-Royal exit devices include a catalog of mullions, delayed egresses, vertical-rod type, rim-type & mortise lock exit devices.
The type of exit device needed will be determined by its application, whether for greater security, selective access, vandalism-resistance or medical/institutional applications. Cal-Royal builds its hardware with multiple-year warranties, and manufactures exit devices in both Grade 1 – Heavy Duty Usage and Grade 2 – Light Duty Usage ANSI classifications.
Exit Devices By Cal-Royal, Installed By Jersey Architectural
Here at Jersey Architectural Door & Supply Co., we know quality door hardware when we see it. That's why we regularly stock Cal-Royal products, including keyless mechanical locks and a full range of push-bar exit devices. After perusing Cal-Royal's online catalog, if customers still have questions about which exit device is right for their building, our in-house team of factory-trained architectural technicians can help them find the right pieces of hardware at the right price. And if they need installation services, Jersey's eight factory-trained union carpenters from Local 623 are ready to schedule a visit, no matter how big or small the space.
So get the best exit devices on the market in your building; choose ADA-friendly, aesthetically pleasing Cal-Royal exit devices supplied and installed by Jersey Architectural in the Tri-State Area, and get sleek, simple, effortless entryways that will hold up to years of use. The hardware manufacturer's extensive catalog includes:
Want To Get Your Questions Answered Now
About Cal-Royal Exit Devices?
Give Jersey Architectural A Call At: