Chase Commercial Doors – A Time-Tested One Stop Shop For All Of Your Commercial Entryway Needs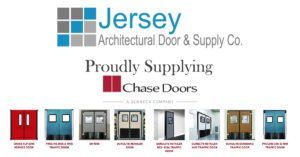 Chase Doors has been manufacturing double-acting impact traffic commercial doors and specialty doors for nearly 100 years, since the company's humble beginning in 1932 as an insulated walk-in cooler and refrigeration equipment manufacturer. Since then, the Ohio-based door builder has expanded its product line to include, double-acting swing doors, PVC vinyl roll-up doors, strip curtains, fiberglass doors, corrosion resistant doors, cold storage doors, sliding fire doors, sliding service doors, pharmaceutical doors, industrial curtains, air doors and bug & pest resistant doors. Chase commercial doors on the market today are the products of many decades of innovation, found in commercial buildings across the world as a testament to quality, durability and economy.
Chase commercial doors are ideal for many industry-specific applications, including food service and restaurant doors, retail and supermarket doors, industrial doors, food processing doors, cooler and freezer doors, interior and exterior warehouse doors, insulated doors and fire/storm-rated doors. For store owners, renovators and builders who want to earn Leadership in Energy and Environmental Design® (LEED) credits by using Chase Commercial Doors products, the EcoSwing double-acting traffic door panel is made from 98% post-consumer recycled content, while the window is roughly 80% pre-consumer recycled content.
Made-To-Order Chase Commercial Doors, Available In Dozens Of Application-Specific Models, Brought To You By Jersey Architectural
Jersey Architectural Door & Supply Co. helps business owners and builders in the Tri-State Area get the perfect commercial doors for their projects, and has been doing so for nearly a century. Whether it's a heavy-duty freezer door needed for the back of a restaurant, a high-speed exterior door for an unloading dock, or an impact-resistant traffic door for inside a processing facility, Jersey's showroom in Atlantic City gives potential customers a good idea of what kind of door they're getting before they buy, while our in-house team of union-trained technicians cover any installation needs.
Jersey is proud to offer industry-leading products from Chase Doors' impressive catalog. Over its own nearly one hundred years of business expansion, Chase has acquired other door brands such as Durulite® , Saino®, Econo Max®, ColdGuard®, Fib-R-Dor®, AirGard®, DuraSlide™, DuraShield™, DuraSpan™, Proline™ and Controlsa, many of which Jersey offers. With over 300 employees working at five vertically integrated manufacturing facilities nationwide, the door builder offers an impressive catalog, including:
Want To Know More About Jersey Architectural's
Offerings Of Chase Commercial Doors?
Give Jersey A Call Today At: