The Classic Beauty of CraftMaster Interior Doors, Now Built With Advanced Jeld-Wen Engineering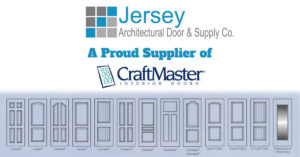 Jeld-Wen is one of the world's largest manufacturers of windows and doors, and when it incorporates a new door manufacturer into its ranks, the quality and innovation of the brand always gets a boost. The story is no different with Chicago-based CraftMaster Interior Doors, which in recent years was acquired by the world-renown door manufacturer based in Charlotte, N.C., and has been making all panel, glass panel, bi-fold and louvered interior doors up to Jeld-Wen's industry leading standard ever since.
All CraftMaster interior doors arrive primed and ready to paint. For even greater ease of installation, Jeld-Wen offers select CraftMaster Interior Doors styles in four pre-stained colors, as well as pre-finish white. Built in either 1 3/4" or 1 3/8" thicknesses, CraftMaster doors come with fire ratings of 20, 45 and 60-minutes. For homeowners and builders who need the security and sound-dampening benefits of solid wood, most interior door designs can be specified for either hollow-core or solid-core applications. For a breakdown of CraftMaster interior door products by product line, browse Jeld-Wen's complete online catalog of its product lines.
Save A Tree – Choose A CraftMaster Interior Door For Your Project
CraftMaster uses no old-growth trees in the making of its doors. Instead, it crafts by-products from sawmill operations together with environmentally safe resins into beautiful, functional building products made mostly from wood chip waste. These recycled wood doors are also routinely tested to meet 14 different criteria involving durability, water-resistance and consistency.
Get A Handsome CraftMaster Interior Door, Shipped Direct By Jersey Architectural
Getting the CraftMaster door you want is just an easy phone call away with Jersey Architectural Door & Supply Co. Our friendly, factory-certified door and window technicians will help you navigate Jeld-Wen's impressive interior door product catalog to get the door that's right for your project and your budget. And when it comes time to hang your new door, our team of veteran carpenters offer plenty of installation options to choose from. So skip the hassle of sifting through door catalogs or trying to make the wrong door fit – give Jersey a call first and see how easy selecting and installing CraftMaster interior doors can be.
Jeld-Wen's CraftMaster Interior Door Styles Include:
All-Panel Doors: Available in wood or wood composites, all-panel doors provide ultimate privacy and can include solid cores for sound control.
Glass-Panel Doors: Available with many glass panel size, shape, texture and opacity options, with decorative patterns to obscure visibility.
Bi-Fold Doors: Hinged accordion-style, they are perfect for closets or tight spaces, available in wood or wood composite materials.
Louvered Doors: Allow for enhanced ventilation and airflow between rooms, while still providing privacy.
Want To Know More About CraftMaster Interior Door Designs Offered By Jeld-Wen?
Give Jersey Architectural A Call Today At: