With Over 200 Years Of Residential Wood Door Manufacture and Supply Experience Between Them, Eggers Doors and Jersey Architectural Are A Natural Pair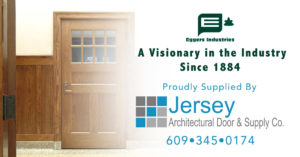 Fred W. Eggers opened the doors of his architectural wood products business way back in 1884. It came from humble beginnings, first making wood baskets to sell to local farmers, and then quickly growing to manufacture wood products for all types of building applications. From there, Eggers Doors was born.
In modern times, Eggers Industries has embraced and invested heavily in top-of-the-line technologies, allowing it to stay on the cutting edge of the manufactured wood door industry. It understands, however, that technology can never be a substitute for craftsmanship, and that machinery only serves as an important aid to the skilled human hand. As a company, they understand the essence of wood, and can build doors of various wood types to fit your specific project.
Jersey Architectural Door & Supply Co. is proud to include Eggers Doors in its Residential Door Product Catalog. As a company, Jersey has been supplying the tri-state area with quality commercial, residential and architectural doors built by top manufacturers like Eggers since 1923. We are a family-owned business, run by the grandson of the original founder. We have a team of in-house architects and designers to help customize doors made by Eggers Doors and others.
Eggers' Wood Flush Doors – Durability And Value
Eggers Industries uses artistic craftsmanship along with hot press technology and bonded cores to produce elegant, high-performing and cost-effective doors that satisfy form and function. Their 5-ply acoustical wood flush doors are fire rated through 90-minutes, and acoustical ratings are available through STC 52. Wood types are customize-able, from domestics to rare exotics. Eggers builds residential wood doors for specialty applications, too, including lead-lined, acoustical, impact-resistant, and bullet-resistant.
Eggers' Catalog of Wood Flush Doors Include:
eiDoor®: Eggers builds this supremely durable architectural door to withstand high amounts of traffic and abuse, all the while maintaining an attractive décor.
Stylus: With this line, the manufacturer combines the superior functionality of a quality 5-ply flush wood door with the elegance of a stile and rail appearance, at a price well below the real thing.
Sketchface: Eggers achieves endless creative design options with this unique manufacturing process, varying the type and grain of wood throughout the face of a wood flush door.
When Your Project Needs Real Stile And Rail Doors, Turn To Jersey, And We'll Turn To Eggers
Every builder knows stile and rail doors set the standard for architectural entryways. These old-fashioned doors make a strong and lasting impression on guests and customers alike. Eggers makes its own veneer faces and components, which allows it far greater quality control and compatibility options. As a door builder, it's an expert at creating and matching various custom architectural designs – from the classical to the most contemporary. Most of its stile and rail door configurations are available with up to a 90-minute fire rating, and many have acoustical ratings up to STC 40.
Have More Questions About Jersey's Offering Of Eggers Products? Give Us A Call Today At