Jersey Architectural – A Full-Service Distributor For Eggers Wood Doors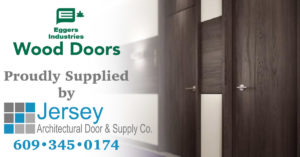 As one of Atlantic City's landmarks in the architectural door supply industry, Jersey Architectural Door & Supply Co. has been supplying Northeast builders for nearly a century. We are a full-service distributor, meaning if you can't find the specific door you seek in our inventory, our on-site fabrication shop can handle any customization needs. For clients needing a residential door replaced, our union-trained door service professionals will schedule an appoint for your home or project. Jersey Architectural technicians are familiar with all the various designs and styles of residential wood doors, and only work with the highest quality materials in the industry – materials made by trusted brands like Eggers Wood Doors.
The Legacy of Eggers Wood Doors
Eggers Industries began in 1884 by Fred. W. Eggers. The Wisconsin-based manufacturer has since been refining the art of making the finest, most beautiful architectural wood products on the market. The company starting with selling wood baskets to local farmers, and quickly advanced into manufacturing wood products for all types of applications.
The company embraces cutting edge technology, but understands it's not a substitute for craftsmanship. It is this advanced machinery that allows Eggers to make such precise Wood Flush and Stile and Rail doors. The catalog of Eggers Wood Doors is extensive, and includes styles like:
Stylus: Durability And Elegance In One Door
Stylus is Eggers' line of stylishly functional wood doors that combine the durability and ease-of-use of a 5-ply flush wood door with the classic elegance of a stile and rail door. With its economical price, this line of Eggers wood doors is highly popular with money-conscious homeowners. Stylus doors are available in multiple fire ratings, up to a 90-minute rated door that only measures 1-3/4" yet has the highest fire door rating possible for wood. Customers can choose from custom moulding options and panel layouts, as well as a wide range of veneers. The Stylus line is available in:
Rectangular panel configuration and design
One of two standard mouldings or match your custom moulding.
Non-rated and 20-, 45-, 60-, and 90-minute wood flush doors.
Particleboard, FSC certified particleboard, structural composite lumber core, FSC certified structural composite lumber core or mineral core.
Acoustical ratings through STC 33 available.
A simulated stile and rail sketchface.
Prefinished, premachined and with or without lites.
Sketchface: Extraordinary Warmth And Visual Appeal
Eggers' Sketchface wood flush doors offer creative customization of the veneer face. Wood veneers are arranged in varying grain directions and species types, giving off an extraordinary visual appeal. With endless design options, there one-of-a-kind doors are guaranteed to leave a lasting impression. They are available in fire door ratings through 90-minute, and acoustical ratings through STC 52. Eggers' expert door builders choose from a large variety of domestic and rare exotic wood species to decorate the veneer face. Similar to Eggers' standard wood flush doors, the Sketchface line includes lead-lined, acoustical and bullet-resistant options.
eiDoor®: Protection Of Vinyl With The Attractiveness Of Wood
Egger's eiDoor® is a supremely durable architectural door that withstands high amounts of traffic and abuse while maintaining an attractive decor. Pair the strength and protection of InPro's IPC Rigid Vinyl Sheet and the quality and performance of Eggers' wood flush doors and you have the very essence of versatility.
Egger's also manufactures stile and rail doors that set the standard for architectural entryways. The company creates its own veneer faces, and so can offer far greater quality control and compatibility. They can match customized architectural designs from different time periods, whether it be the most contemporary style or the most classic historical renovation. Most of Eggers' stile and rail configurations come with up to a 90-minute fire rating and acoustical ratings up to STC 40.
Have Questions About Eggers' Products?
Want To Know About Jersey Architectural Supply Catalog?
Give Us A Call Today At