Eliason Food Service & Restaurant Doors: Keeping Food Establishments Safe, Clean & Productive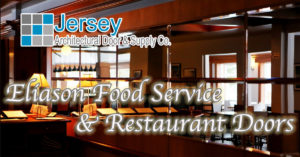 Kalamazoo, MI-based Eliason Corporation is a major player in the national food service door and restaurant door markets. Eliason is famous for manufacturing its Easy Swing double action, impact resistant partitions for high-traffic food service applications, and Econo-Covers to keep cold food cold while cutting commercial utility costs. But the company is much more than just plastic partitions – Eliason food service & restaurant doors catalog covers a wide range of food service applications, making it a one-stop-shop for restaurant owners and food distributors nationwide.
The half-century old door manufacturer offers dining and kitchen doors, cafe and gate doors, flexible top-mounted doors, insulated doors, cooler and freezer doors, entrance and vendor doors,  hands-free strip doors for back of the house energy-saving applications, their famous Econo-Strips® to help reduce refrigeration loss in display case applications, as well as door frames and parts.
No Matter What Type Of Door Your Restaurant Or Food Service Business Needs, Jersey Architectural Puts Eliason's Full Catalog At Your Fingertips
For nearly 100 years, Jersey Architectural has been a valuable door supplier for Northeast U.S. restaurants and food service companies. We always stock the highest quality building materials from trusted manufacturers like Eliason, which our prospective customers can see on display any day of the week at our Atlantic City showroom. Here at Jersey, we have an in-house team of architectural technicians and advisors who can help you get the best performing, most durable and highest energy rated food service door perfect for your establishment.
Eliason Food Service & Restaurant Doors Offerings Also Include: