For The Best Steel Doors And Frames On The Market – Go Galaxy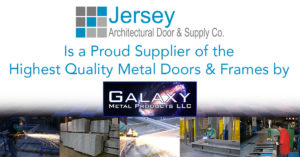 Here at Jersey Architectural Door & Supply Co., we strive to bring our clients the highest quality metal doors and frames on the market. That's why we are proud to list Galaxy Doors from Galaxy Metal Products on our list of industry-partner metal door and frame manufacturers.
Galaxy is an Edison, New Jersey-based metal fabricator that has provided us with the best in metal doors and frames for commercial, institutional and residential structures since 1989. Their entire catalog of metal door and frame products has been subjected to rigorous testing to ensure everything they make will withstand the most demanding applications. Galaxy has earned a name for itself among metal door fabricators as a company heavily involved in the industry, working with key industry associations like the Door and Hardware Insititute (DHI), Edison NJ Chamber of Commerce and the American Institute of Architects (AIA).
Customized Doors, Always Ready For Paint
Galaxy Doors are made from hot-dipped galvanneal steel, and can be finish painted before or after installation. Their doors can be customized with optional vision lite/louvers, making them workable into nearly any metal door application. Galaxy Doors also feature full-flush seamless faces, inverted top and bottom channels for easier installation and internal construction options of honeycomb or rib-reinforced.
Hollow Metal Galaxy Doors In A Variety Of Models, Dimensions and Gauge Thickness
Galaxy builds its doors in both 18-guage and 20-guage standard stock sizes. Door width can be tailored in increments between 2′ 0" and 4′ 0". Its standard door heights are either 6′ 8" or 7′ 0". The New Jersey door manufacturer offers window and louver customizations, including:
Flush – A standard size metal door with no windows or louvers; sleek, smooth steel face.
Vision Lite – A standard door with a small window centered at the top.
Narrow Lite – A door with a narrow rectangular vertical window in the top right-hand corner.
Half Glass – A door with a square window framed in the top half.
Louver – A standard steel door with a louvered vent centerd at the bottom
Full Glass – A door with a large rectangular glass pane taking up most of the door, framed in steel.
For a full breakdown of all the different doors, frames and hardware from Galaxy, refer to their product catalog.
Galaxy Is More Than Just Doors. It Makes Frames, Jamb Anchors, Floor Anchors And Other Products, Including:
Adjustable Floor Anchors
Fixed Floor Anchors
Drywall and Masonry Jamb Anchors
Double Rabbet Jamb
Trimmed Opening Jamb
Single Rabbet Jamb
Double Egress Jamb
Mullion Jamb
Welded Frames
Knock-Down Frames
Have More Questions About Galaxy Doors Products?
Give Jersey Architectural A Call Today At