Authentic Stile And Rail Residential Wood Doors – Made By Harring Doors, Supplied By Jersey Architectural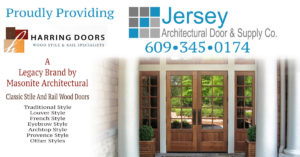 Here at Jersey Architectural Door & Supply Co., we understand what goes into crafting a door that harnesses the natural beauty of wood. Vinyl-coated or metal doors serve their purpose in commercial and institutional applications, but most homeowners can appreciate the style and warmth of an old-fashioned wood stile and rail front door. The look of veneered wood gives off a warmth that only real lumber can achieve. When our customers ask us about top name-brand authentic wood stile and rail doors, we always tell them about Harring Doors.
Harring Doors is an Ontario, Canada-based manufacturer of authentic stile and rail wood doors founded in 1988 that markets its brand of residential wood doors under Masonite Architectural. Masonite, Harring Doors' parent company, is headquartered in Tampa, Flordia and employs over nine thousand people worldwide as one of the largest manufacturers and merchandiser of commercial and residential doors. Harring stile and rail doors is one of several brands in Masonite's Aspiro Series of wooden doors.
Harring Doors Manufactures Classic Stile And Rail Wood Doors In Styles Like:
Traditional Style
Louver Style
French Style
Eyebrow Style
Archtop Style
Provence Style
Other Styles
Clients can customize Harring Doors with different surface types, including hard wood, soft wood, domestic veneer, exotic veneer, high density fiberboard (HDF), and surface types, including HDF, medium density fiberboard (MDF), structural composite lumber core (SCLC) and proprietary.
Jersey Architectural has an on-site fabricating facility, so custom-crafting and fine-tuning your Harring Door post-manufacture to perfectly fit your project is a snap.
Color Your Living Environment With A Factory-Finished Stained Harring Door
Harring Doors combines a century of wooden door building experience with modern design practices, and have selected the finest stains to be meticulously factory-applied to stile and rail wood doors. Factory-finished stained wood doors from Harring achieve the highest quality color, sheen, tint and tone, and showcase their unique, subtle natural surfaces. Factory finishes available for custom orders include:
Clear
Bourbon
Cane
Caramel
Cinnamon
Cocoa Bean
Espresso
Honey
Nutmeg
Rolled Oats
Saffron
Stout
Toast
A Variety Of Different Wood Species, All Harvested From Sustainable Forests
Harring Doors is committed to using regionally-sourced, rapidly renewable and certified wood products in the manufacture of its doors. It has implemented policies and procedures to avoid sourcing illegally harvested wood or wood from forests where logging is causing great ecologic damage. From its catalog of different wood species, customers can choose from African Mahogany, Plain Sliced White Birch, Cherry, Red Oak, White Maple and White Oak.
For A Complete Diagram of Harring's Various Door Profiles, Consult Masonite's Blueprints For Harring Doors.
Want To Know More About The Harring Doors' Products We Supply?
Check Out Jersey's Supply Catalog And Give Us A Call Today At