Elegant, Long-Lasting Residential Woodgrain Windows From Ideal Window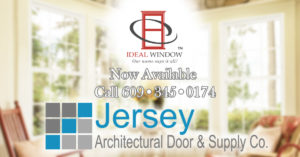 Real wood window frames are beautiful, but they can take a lot of work to maintain. Ideal Window Residential Woodgrain Windows from Ideal Window™ match the elegance and warmth of real wood with the integrity of high-performance vinyl, in a multi-purpose residential window solution that no guest will ever know isn't real wood.
Vinyl woodgrain residential window frames require a fraction of the maintenance of real wood, and will never rot, splinter, crack or warp, guaranteeing homeowners handsome windows for decades. With nearly a century of experience engineering and manufacturing quality window and door products, Ideal Window™ has become a major force in the U.S. residential window industry, with an online gallery of woodgrain window products to meet the needs of homeowners anywhere.
Ideal Window™ And Jersey Architectural; NJ-Made Woodgrain Window Products Delivered To Your Door By South Jersey's Premiere Door & Window Supplier
The partnership between our supply house here at Jersey Architectural Door & Supply Co. and Ideal Window™ is a natural one. As a residential window supplier, Ideal Window has been building quality window products for over 90 years – today at three state-of-the-art facilities in Bayonne, NJ. Jersey Architectural has been supplying windows from top brands like Ideal Window for an equally long time, together helping to create part of the Northeast's residential woodgrain window products manufacturing and supply chain.
Here at Jersey, we know northeast homeowners need window frames that can withstand the elements and keep a home cozy. We also know that spending a fortune on real wood frames is out of the question for many people, so we always refer customers to trusted brands like Ideal Window™ to find high-performance vinyl window frames with uncanny woodgrain finishes. Browse Ideal's catalog of window products and see how your home could benefit from high-performance, lost-lasting woodgrain vinyl windows.
Ideal Windows™ Replacement Windows:
Ideal Windows™ Multi-Purpose Windows:
Ideal Windows™ Sliding Patio Doors:
Have Questions About Ideal Windows?
Want To Know More About Residential Woodgrain Window Frames Available From Jersey Architectural?
Give Us A Call Today At