For A Trusted Steel Door Hardware Brand, Choose Ives. For A Trusted Door Hardware Supplier, Choose Jersey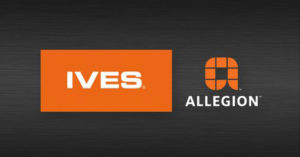 More than 120 years ago, steel door and hardware manufacturing giant Ives started rolling out top-quality, industry leading door hardware and accessories that deliver greater design flexibility at superior value. The company's impressive portfolio of hinges, pivots, flush bolts, strikes, door trim, pulls, protection plates, lock guards and more is guaranteed to have the right piece of Ives Steel Door Hardware for any project.
And with Ives steel door hardware supplied by Jersey Architectural Door & Supply Co., contractors and building managers in the Tri-State area from New York to Philadelphia to Atlantic City have direct access to Ives impressive catalog, at the most competitive prices in the industry. Like Ives, Jersey Architectural as a company has been in business for a century now, and has learned the importance of developing a steel door hardware catalog that has something for every project. Our Atlantic City showroom is stocked with Ives products, and our in-house team of architects and technicians will help you pick the style, design and finish you need in order to build the steel door you want.
Ives builds its architectural steel door hinges with brass, steel and stainless steel base materials to ensure they meet code requirements. The company tests the hinges cycle life, weather and environment resistance in order to ensure high performance. The company offers a wide selection of metal door hinges to meet specific budgets, application and aesthetic needs, and every hinge it produces comes with customizable options for safety, security and electrification. And, with a wide selection of finishes, these Ives Steel Door Hardware hinges can complement any existing building hardware style and design. The company packages the hinges with screws and fasteners included.
Ives Door Pulls
Ives makes decorative door pulls , heavy-duty long door pulls and hooks in stylish, elegant and functional designs out of aluminum, stainless steel and brass. Pair them with other door hardware as needed throughout a building, offering an update to old classical steel door architecture, and allowing interior and exterior hardware to share a common, unified design.
Ives' door pulls designs are compatible with many Schlage and Von Duprin lever and knob designs, too, so find complementary hardware with Ives is a snap. Like the vast majority of items in Ives steel door hardware catalog, their decorative door pulls can be customized for specific projects with a multitude of different finishes. So whether your project calls for a traditional, modern, offset or straight styled door pull, or one with a specific mounting length, Ives has a design and finish for every application, and all found in their east-to-use online catalog
Continuous Hinges
Ives manufactures geared continuous hinges for steel doors that will last the life of a building. These uniquely designed door hinges distribute the weight of a door along its entire frame, reducing the high amount of stress on standard hinges. This reduces hinge failure and helps keep doors in constant alignment, eliminating the risk of door sag, reducing maintenance, and maximizing efficiency. One of geared continuous hinges' most popular applications is in high-use areas with high-traffic doors. Their design also eliminates the space between the hinges, preventing fingers from being pinched and making for a safer device than traditional hinges.
Ives also manufactures steel pin and barrel continuous door hinges, which share many of the same characteristics as traditional hinges, but with a center pin and rolled knuckles that stretch along the entire length of the door frame.
Pivots
Ives builds steel door pivots that reduce the stress on a door frame by distributing the door weight throughout the floor structure. This makes pivots an ideal solution for heavy doors. Ives forges pivots out of brass or stainless steel for maximum corrosion resistance, combining them with precision bearings for smooth operation.
Ives steel door hardware catalog also includes push plates for high-use doors, which help reduce wear on a door's surface with periods of heavy use. Push plates are available in aluminum, brass and stainless steel substrates, with a variety of finishes to match Ives' door pull offerings. All plates have four beveled edges and countersunk mounting holes, available in different widths and heights.
This specially designed steel door trim from Ives supports a door's locking hardware while eliminating the ability to vandals to break in using the crevice between door and door frame. All models are 11-guage stainless steel, and come standard with stainless steel fasteners for door thicknesses of between 1-3/4" to 2-1/4". A built-in lock protector prevents tampering with the latch-bolt on certain models. A protective cylinder collar spins to reduce damage from pipe wrenches or other tools.
Ives makes specially designed door rescue hardware made for healthcare facilities to free a blocked doorway caused by an incapacitated patient. Used with center-hung door pivots, this hardware allows a bi-directional door swing in emergency situations, allowing the door to swing in the opposite direction without causing frame damage.
Have More Questions About Ives Steel Door Hardware Supplied By Jersey Architectural?
Give Us A Call Today At