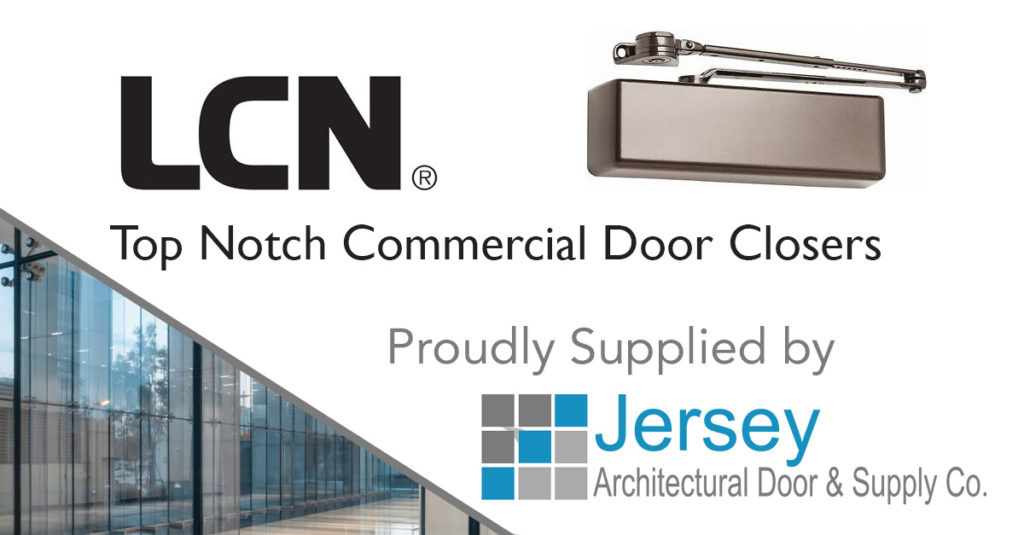 The Best In Commercial And Institutional Door Hardware: LCN Builds Door Closers That Pass The Test
LCN Door Closer products are designed to stand up to the most demanding high-traffic applications across multiple industries. From schools and hospitals to government buildings and correctional facilities, building managers and designers have come to trust LCN products to work seamlessly and offer unmatched security during crucial moments. The Princeton, IL-based subsidiary of global security products supplier Allegion builds commercial/institutional door closers using state-of-the-art manufacturing technologies in a variety of orientations and customizations, including Surface-Mounted Closers, Overhead-Concealed Closers, Fire and Life Safety Closers, High Security Closers and even Automatically Operated Closers.
In all, the complete LCN Door Closer Catalog offers 35 different door closer and door hardware series to choose from, with a normal operating life of between 15 and 20 years on all LCN products. The company draws on over a century of commercial door hardware building experience – getting its start way back in 1877 – to today build products that meet the security and functionality needs of the 21st Century. Burglary, vandalism, fire danger, unauthorized access, ADA non-compliance and many other issues can all be greatly reduced with new, custom-designed door closers from LCN.
A Door Closer Brand For Any Application
Here at Jersey Architectural Door & Supply Co., we understand the value of the "one-stop-shop." That why we regularly stock LCN Door Closer products; we know LCN excels as a door closer manufacturer because of the diversity of uses for what they create; handsomely crafted hardware in both concealed and conspicuous models for aesthetically-driven spaces, and even accessibility solutions that are ANSI and UL-certified. LCN's impressive offering of door closers to suit virtually any commercial application includes:
Surface Mounted Closers: These straightforward designs attach directly to the door and/or frame for easy installation, and are available in light, medium and heavy duty models. They feature an industry-leading line of closers made from cast iron – known for its durability.
Overhead Concealed Closers: LCN builds "concealed" closers designed to be built directly into the door or frame for applications where aesthetics and clean lines are paramount, all without compromising on the strength and performance found in other models. They feature heavy duty construction and operate with the quietest, smoothest travel.
Fire and Life Safety Closers: The manufacturer's lines of fire and safety closers feature hold-open solutions for fire-rated doors, incorporating cutting-edge design elements developed by LCN. This broad portfolio of hardware offers single point, multi-point and tri-volt magnet options.
High Security Closers: These tamper and vandalism-proof door closers are built with specialty components to be solutions for abuse-prone applications such as correctional facilities. They feature innovations like specialty fasteners and durable metal covers.
Automatic Operator Closers: Among LCN's most specialized models are its automatic door closers, which feature low-energy electromechanical and electro-hydraulic swing operators for unbeatable accessibility solutions. These closers are ideal for facilities looking to service their closers in-house, since LCN's simple, durable design doesn't require maintenance by American Association of Automatic Door Manufacturers (AADM)-certified technicians.
Have Other Questions About LCN Door Closer Products Offered By Jersey Architectural?
Give Our Friendly, Helpful Door Techs A Call Today At: