Lemieux Doors: So Much More Than Just French Doors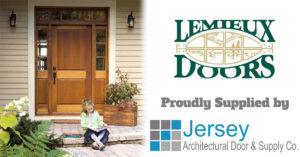 Lemieux Doors Inc. – a Windsor, Canada-based manufacturer of wood stile and rail doors – earned a name for itself over the past century for building top-quality french doors. But since its expansion into the U.S. wooden door market, Lemieux Doors has diversified its product catalog and now offers a broad range of elegantly crafted residential wooden doors in both traditional and modern styling. The company was founded in 1906, and in August 2012 became a subsidiary of
Masonite International Corporation
, one of the world's largest manufacturers and merchandisers of commercial and residential doors with 10,000 employees working in 60 facilities on 5 continents.
Masonite
builds Lemieux Doors in versions suitable for both indoor and outdoor use. It employs specialized construction methods to produce doors specifically adapted to certain applications. Lemieux Doors can be customized with everything from glass panels to special moulding, louvers to bi-folds, fire-rated protection to a wide selection of wood types. Lemieux Doors' commitment to offering a diverse product catalog allows residential construction supply houses like
Jersey Architectural Door & Supply Co. to offer customers custom-tailored wood doors
to meet the needs of any building or remodel project. Our in-house team of architectural consultants will make sure you get the right wood door from an industry-trusted brand like Lemieux Doors.
Le Chateau: A stunning collection of paneled doors built with MDF paneling for increased strength and stability. These doors are resistant to cracks and leaks caused by a building's thermal expansion and contraction. Lemieux Doors employs advanced stile and rail engineering methods to produce a door that is lighter and needs no special screws for installation. Le Chateau doors can be customized with distinctive mouldings to better complement any entryway.
Premiere Glass: A door that brings the wonderful ambiance of natural light and decorative glazing into any home application. These polished glass doors strike a perfect balance between elegance and function, and are fully sealed, tempered and triple-glazed. Caming options to accent glazing include brass, zinc and black patina. Premiere Glass Doors come in crystal-clear, frosted or semi-opaque styles, with or without decorative patterns. Lemieux Doors offers over 94 types of glass; the widest selection offered by any door manufacturer. Exterior glass doors come with a choice between two different glazing technologies: Low-E Glass to eliminate the damaging effects of UV radiations on carpets, furnishings and upholstery, or Insulated Glass that reflects back solar heat in the summer and retains it in the winter.
Le Palais: A sophisticated and strikingly original line of handcrafted doors that will lend distinctive personality to any home. This line of ornate wood doors incorporate MDF panels for strength and durability, and offers a more refined style.
Artisan: Lemieux Doors' artisan series captures the charm of the countryside with rustic, old-fashioned appeal. True craftsmen build these doors with uncompromising attention to detail and quality.
Traditional: This line of traditionally crafted pine doors includes panel doors, louvered doors and bi-fold doors. Their timeless design fit seamlessly into any house's décor, and incorporate single-hip split resistant or solid double-hip panels in a wide assortment of sizes.
French Doors: Naturally, a company that has become world-renown for its french doors like Lemieux Doors offers top-of-the line styles of this classically elegant door. The company builds its french doors using a clamp glazed method perfected in 1992. Time-tested mortise & tenon construction and a cutting-edge UV sealant system help make these french doors most exceptional.
Sidelights And Transoms: These entryway accessories make elegantly crafted wood doors stand out even more, and let plenty of natural light into a home.
Want To Know More About The Types Of Lemieux Doors Offered By Jersey Architectural?
Give Us A Call Today At: