Authentic Stile & Rail, Select Wood Veneer, Premium Painted Or Impact Resistant Laminate, Masonite Has The Perfect Architectural Door For Your Project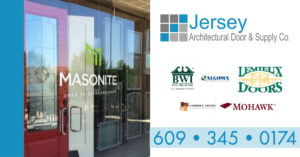 No matter what style of architectural door your building project calls for, Masonite has one that will outperform all others. The Tampa, Florida-headquartered company is one of the world's largest commercial and residential door builders, operating more than 60 facilities in twelve countries on five continents. And for good reason, too – their doors have earned a legendary reputation for quality and customization. Masonite's two product lines of architectural doors – the Aspiro™ and Cendura™ series – are fully customizable, with tons of color, design, wood type and function options to choose from.
Masonite architectural doors come in four distinct styles including Authentic Stile & Rail, Select Wood Veneer, Premium Painted and Laminates/Impact Resistant doors, with custom options for each. They are well-suited to practically any industry, including healthcare, hospitality, education, institution, government and multi-family buildings. For more than 100 years, Masonite's family of companies – with its legendary brands like Algoma, Baillargeon, Harring, Marshfield and Mohawk – have led the U.S. wood door market in innovation and craftsmanship. So here at Jersey Architectural Door & Supply Co., we know what a name like Masonite means to builders everywhere, and we strive for excellence in supplying such top-name products to our Northeast U.S. builder clients and beyond.
CENDURA™ Series: A balance of performance and value, these commercial openings excel in hospitality applications, office spaces and back-of-house environments that demand versatile performance and reliability
ASPIRO™ Series: These doors bring great aesthetic appeal to institutional, architectural and commercial spaces with a wide range of custom options to fit even the most high-traffic environment, including high-performance decorative laminate doors and impact-resistant doors.
Masonite Builds Its Architectural Doors In Several Different, Distinct Designs, Including:
Authentic Stile & Rail: Achieve the world-class beauty of traditional stile and rail wood door designs with this line of handsomely crafted doors from Masonite subsidiary Harring Doors. Available in standard stile and rail designs, as well as arch-top and lite. Custom stile and rail doors available on request.
Select Wood Veneer: These professionally crafted natural and reconstituted wood veneer doors are available in hard wood, soft wood, domestic veneer, exotic veneer and reconstituted veneer, with 13 unique designer stain options. Customers can even choose the wood species – from African mahogany to red oak, cherry to white maple.
Premium Painted: Professionally finished and painted in-house, these Factory Finished Doors come in seven standard designer colors that make a big visual splash, with custom color-matching options also available. Door core material types are customizeable as well based on use, with options like Acoustic, Lead-Lined, 45-90 Mineral, 45 Particleboard, Structural Composite Lumber (SCL) and Wood-Based Particleboard.
Laminates and Impact-Resistant: This line of commercial and institutional doors is designed to withstand heavy traffic and abuse. Masonite's high-performance decorative laminate (HPDL) and high-impact doors do not need kick plates, metal edge guards or any protective armor at all due to the innate strength of their construction. This eliminates the "armored door" look, while maintaining 100 percent building safety, security and access control.
Want To Know More About Masonite Architectural Doors And Their Cendura™ and Aspiro™ Series Of Products?
Give Our Friendly Door Techs Here At Jersey Architectural A Call Today At: