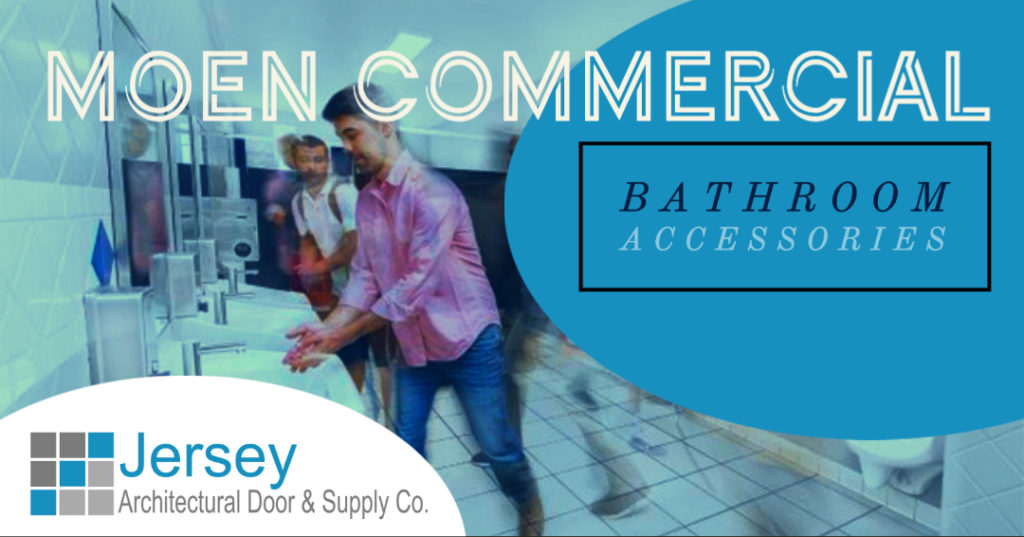 From Flush Valves To Sinks, Faucets to Safety Features, Moen® Commercial Bathroom Accessories Has It All
For nearly a century now, the brand Moen has consistently earned the praise of members of the commercial bathroom accessories industry. Although perhaps best known for their residential kitchen and bathroom fixtures, the Ohio-based manufacturer offers a broad catalog of elegantly crafted, customized and easy-to-use accessories for commercial applications, too. From airports to office suites, sports stadiums to educational institutions, Moen commercial bathroom fixtures are used everyday by millions of people with flawless performance. As the number one faucet brand in North America, their reliable bathroom products are the go-to choice for building managers and designers who are looking for worry-free accessories to maximize their bathroom space's form and function.
From a humble beginning in 1956, when Al Moen founded his plumbing products company in Seattle, Moen has grown to incorporate engineers, architects and designers who work tirelessly building fixtures to fit any possible bathroom scenario. Their truly superior sinks, faucets, flush valves, shower accessories and many other products can help reduce building maintenance costs, stand up to heavy wear and tear/vandalism, and even save thousands of gallons of water every year. That's why outfitting a commercial bathroom space with Moen accessories isn't just for looks – it's a smart investment that can cut the total cost of building ownership. What about other small bathroom accessories like toilet paper holders, soap dishes, grab bars and towel rings? Moen offers all of these and so much more in its expansive online product catalog of commercial bathroom accessories.
With An All-Encompassing Product Catalog, Outfitting A Commercial Bathroom Has Never Been Easier With Moen And Jersey Architectural
Here at Jersey Architectural Door & Supply Co., we only stock top commercial bathroom accessory brands – brands like Moen. With such a wide range of products offered, we regularly recommend Moen's bathroom products to customers who are looking for a one-stop-shop able to outfit even the most challenging commercial bathroom spaces top to bottom. Even the smallest, simplest accessories make a difference when made by Moen. So give us a call, or visit our Atlantic City showroom to see the company's products in-action, and see how our techs at South Jersey's top door, window and architectural products supply house can help you pick out a handsome, functional and hassle-free Moen bathroom. Take advantage of our unbeatable shipping timetables and get Moen commercial bathroom accessories shipped direct to your door in no time.
Jersey Architectural's Extensive Offering Of Moen Commercial Bathroom Accessories Includes:
FAUCETS
SINKS
SHOWER & SPA
ACCESSORIES
SAFETY
FLUSH VALVES
Want To Know More About The Various Moen Commercial Bathroom Accessories Offered By Jersey?
Give Our Friendly, Helpful Techs A Call Today At: