With World-Renown Residential Wood Door Brands Like Mohawk™, Jersey Architectural Is The Tri-State Area's Go-To Door Supply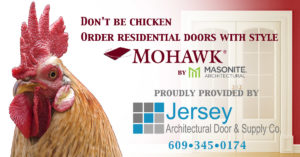 Mohawk Doors dominate the residential wood door market, known for their handsome craftsmanship, economy and diversity of uses. Mohawk is one of the cornerstone brands of Masonite®Architectural, which also includes household name brands like Algoma, Baillargeon and Marshfield. As a major player in the manufacture of architectural products, Masonite leads the industry in innovation, quality products, exceptional customer service and a commitment to excellence on a global scale. Masonite Architectural combines manufacturing scale, industry-leading innovation and expertise to deliver complete door solutions to the customers and markets they serve.
Mohawk Doors was founded in 1951 in Elkhard, IN, and moved to Northumberland PA in 1958, making the town its corporate headquarters. Mohawk's production facility is housed in a 250,000 square foot facility located in Northumberland, from where the manufacturer can supply its doors through a professional distributor network that reaches all 50 states, Puerto Rico, Mexico and Canada.
Mohawk Doors Today
Today it's an industry value brand leader for wood doors for use in hotels, dormitories, offices, stadiums, government buildings and, of course, residential family homes. The company specializes in factory-finished, fire-rated, sound-rated, lead-lined and "green" products as a supply to diversified residential door supply markets.
An Extensive Selection To Meet Any Project's Requirements
Mohawk Doors's Product Offering when it comes to residential wood doors is impressive. It builds doors in a variety of surface types, for a variety of residential interior and exterior applications. Grouped by surface type, Mohawk's manufactures Wood Veneer, Laminate (HPDL), MDF, Paintable Surface, Molded Panel and Rustic Hardboard doors.
Wood Veneer: Available in a wide variety of veneer choices, these handsome wood veneer doors bring the look of real hardwood. From species to cut, match, and lay-up selections, Jersey Architectural brings residential projects the veneered wood look they need.
Laminate Doors: Laminate surface doors offer the ultimate in selection, durability, and value. With hundreds of laminates to choose from HPDL doors are a great option for any interior in any application.
MDF Doors: This distinct yet affordable wood door option from Mohawk reflects a project's unique expression. MDF Doors create the illusion of stile and rail construction, manufactured with the strength, durability and stability of one-piece solid panel door construction. Mohawk produces the doors as blank canvases, ready for custom fitting to specific project functional and aesthetic requirements. MDF Doors are available in fire-ratings from 20 to 90 minutes.
Paintable Surface Doors: Mohawk's paintable surface wood doors offer complete versatility to complement any interior design theme. Painted surface doors in Mohawk's Architectural Series are available in Birch or Medium Density Overlay surface options.
Molded Panel Doors: These popular 2-panel Roman and 2-panel square designs add warm to any project. Mohawk builds doors in smooth or textured surfaces with a variety of face design configurations, emulating the look of true stile and rail doors at a fraction of the price.
Rustic Hardboard Doors: Mohawk deeply embosses their hardboard skins, and then factory-finishes them to emulate the rich, inherent beauty of true walnut and oak veneers. Mohawk Rustic Doors are one of the least expensive and most durable prefinished doors in the industry. They are perfect for customers wanting the visual appeal of wood at a lower price point than real wood veneer.
Questions About Mohawk's Residential Doors Offered In Jersey Architectural's Residential Door Catalog?