A Beautiful, Durable Pacific Northwest-Made Exterior Door For Every Northeast Builder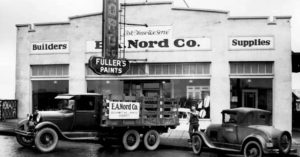 The E.A. Nord Co. is a historic brand; making doors that qualify as works of art for nearly 100 years. Sourcing the highest quality hardwoods, hardware and building materials, the time-tested door manufacturer made decorative exterior doors that will turn the front of any home into a grand entryway. The door builder intricately carved and molded its Nord Decorative Exterior Doors, with a generous panel thickness of typically 1 3/8-inches, compared to the usual 9/16 and 3/4-inch panel width of lower-end residential decorative exterior doors.
Nord Style doors are now crafted by building materials giant Jeld-Wen Inc.; taking over in 1986, building its artfully rendered Nord Style decorative exterior doors out of steel, wood and fiberglass. Its Custom Wood All Panel Exterior Door line features Alder, Cherry, Mahogany, Oak, Walnut and multi-wood options. A wide offering of panel designs, finishes and subtle decorative accents make these doors customizable for even the most discerning homeowner. And for customers who want the beauty of wood and the durability of fiberglass, Nord Decorative Exterior Doors features a product line called Aurora® Custom Fiberglass All Panel Exterior Doors which achieves the best of both these worlds. Nord also builds steel all-panel exterior doors in several popular panel designs that come pre-primed and ready for painting.
The Most Celebrated Name In Decorative Doors, Shipped Direct From South Jersey's Favorite Door Supplier
Jersey Architectural Door & Supply Co. knows what customers look for while shopping for intricately carved decorative doors. Jersey has been in the residential door supply business long enough to know that doors like those made by Nord are more than just functional pieces of building hardware. A decorative exterior door is a piece of art in its own right, and its location at the front of a home is its display case. Nord Decorative Exterior Doors achieve a higher level of aesthetic value for a home, welcoming family members and guests alike every day.
As a well-known residential door supplier and installer in the Tri-State area, Jersey Architectural boasts an online catalog of decorative exterior doors and door hardware, making it easy for homeowners and builders to find the decorative exterior door that is perfect for their next project, and get it shipped directly to their own door. Can't find the Nord Decorative Exterior Doors you want online? No problem. Jersey employs a team of qualified, industry-trained technicians and architectural consultants to help answer all of your door questions, and they are always just a phone call away.
Want To Know More About Nord Decorative Exterior Doors?
Have Questions About Which Model Is Right For Your Project?
Call Jersey Today At