The Legacy of Amish Craftsmanship – In A Door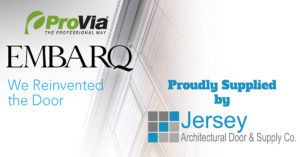 Sugarcreek, Ohio-based door manufacturer ProVia builds its doors in the heart of America's largest Amish population, pairing cutting edge residential door design technology with the old-world handcrafted beauty that is a hallmark of Amish culture. Half a century ago, the nationally renown manufacturer of high quality entrance systems got its start when Bill Mullet founded the company in a garage building ProVia interior doors. Today, the company is much larger, but remains privately owned by the Mullet family, which continues to invest in facilities, employees and the delivery of industry-leading professional service to its customers.
ProVia manufactures everything from doors to windows, vinyl siding to manufactured stone products. But it is arguably most famous for its residential interior wood, glass, vinyl, fiberglass and steel doors, storm doors, entry doors and patio doors. Provia interior Doors can be customized to have wood, steel or nylon cores with a variety of overlaying material options, with dozens of paint and stain finish options to choose from. Bottom sweeps, full or partial glass panes, insulation channels, perimeter seals, hinges and tracks can all be customized, too, making ProVia's online door products catalog a one-stop-shop for any and all residential interior door needs.
ProVia's Full Line Of Interior Doors, On Display At Jersey Architectural's Atlantic City Showroom
Like ProVia, we here at Jersey Architectural Door & Supply Co. have been in the residential door business for a long time. As South Jersey's top-rated architectural door and glass supplier since 1923, we've been helping homeowners and residential builders get the highest quality interior wood, steel and nylon doors from industry-leading manufacturers like Provia. All it takes is a quick phone call to Jersey's in-house team of architects and design technicians to decide on which of the wide selection of ProVia interior doors fits your project best. Need help navigating through ProVia's product catalog? Our staff members are happy to help explain and offer advice about the latest in interior door technology.
ProVia's Catalog of Residential ProVia Interior Doors Include The Following Product Lines:
Entry
Storm