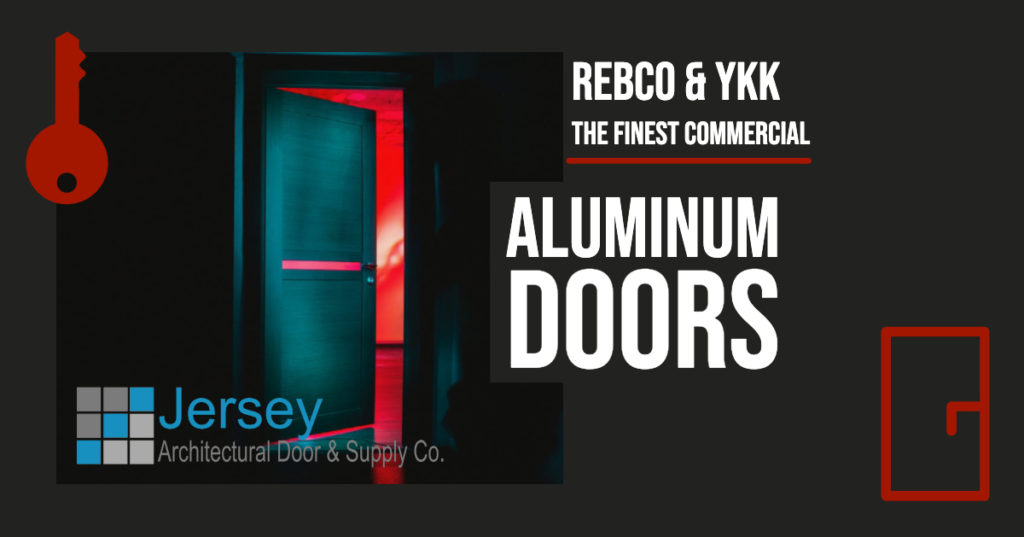 Achieve Superior Entryway Durability With REBCO & YKK Aluminum Doors
Together, legendary aluminum doors manufacturers REBCO and YKK offer an impressively diverse catalog of entryway systems for any application. Architectural aluminum products from both brands are used and relied upon everyday in buildings across the U.S., with REBCO products found in diverse locations from the West Point Military Academy and Statue of Liberty in New York to corporate buildings headquarters like IBM and GE. YKK AP also makes architectural aluminum entrances, storefronts, sliding doors and curtain walls for everything from office buildings to residential high-rises, shopping centers to sports stadiums, and so much in-between. With such broad distribution and brand recognition, it's easy to see why Rebco & YKK Aluminum Doors are simply the best in the business.
With more than a century of experience building superior entryway products between the two companies, REBCO & YKK should always be among the top brands on any general contractor or building manager's list. And to cater to their customers even further, both door builders make fully customizable products, with various design, performance, aesthetic, hardware and finish options to choose from.
REBCO's Narrow, Medium and Wide Stile Entrances
REBCO Narrow Stile Entrance – Super Strength Series S Door. An inviting entrance with a light, open look, REBCO builds this narrow stile door with triple reinforced welded construction, allowing for a maximum-durability entryway for light or heavy foot traffic in any weather conditions. The door's custom hardware installations are well-suited to complement a building's existing fixtures, and adding custom colors can create a truly one-of-a-kind REBCO door.
REBCO Medium Stile Entrance – Super Strength Series M Door. The door manufacturer specially designs this heavy-duty door for the heavy traffic and constant wear of schools, supermarkets and other high-use installations. Its sturdy aluminum construction and thickness are best utilized in a center-hung door application, and its effective thermal barrier allows for superior operation in all weather conditions.
REBCO Wide Stile Entrance – Super Strength Series W Door. REBCO's most durably constructed door, the Series W Wide Stile Entrance handles the most severe wear-and-tear conditions imaginable; A perfect fit for strong, monumental-style buildings and installations where security and longevity are paramount.
Within the impressive REBCO & YKK Aluminum Doors catalogs, REBCO includes its elegant, handsomely crafted aluminum designer door series for virtually any aesthetic application, including:
The Champagne Door
The Windsor
The Deco-Door Mid-Panel
The Guardian Door
The Textured Panel Door
The Fifteen Ninety
The Jennifer Door
The Madison Door
The Paterson Door
The Park Avenue Door
The Yellena Door
The Savoy Door
The Parisienne Door
The Primavera Door
The REBCO Door
From Government Offices To Schools To Businesses Across The Globe, It's Easy To Spot A YKK Aluminum Door
YKK is a world leader among aluminum architectural products manufacturers, with its own impressive catalog of entryway solutions. Its aluminum architectural products division builds entranceways, storefronts, curtain walls and window wall systems for commercial and institutional building industries. Its vertically integrated, technologically cutting-edge manufacturing facility in Dublin, Georgia builds aluminum architectural products which continue to lead the aluminum door industry.
YKK AP's Expansive Product Catalog Of Aluminum Doors Includes:
25FD Flush Panel Entrance – YKK builds its Model 25FD with durable Fiber Reinforced Polyester (FRP) resin or an aluminum skin to satisfy any project's performance and design requirements. The door's aluminum skeleton in the form of a 4-1/2″ backup tube with a minimum 1/8″ wall thickness adds extra strength to maintain its integrity even in heavy abuse applications. The door is also compatible with a variety of locking and hinging hardware for enhanced security and easy-of-access.
Want To Know More About The Broad Offering Of REBCO & YKK Aluminum Doors By Jersey Architectural Door & Supply Co.?
Give The Friendly, Helpful Door Techs At Jersey A Call Today At: