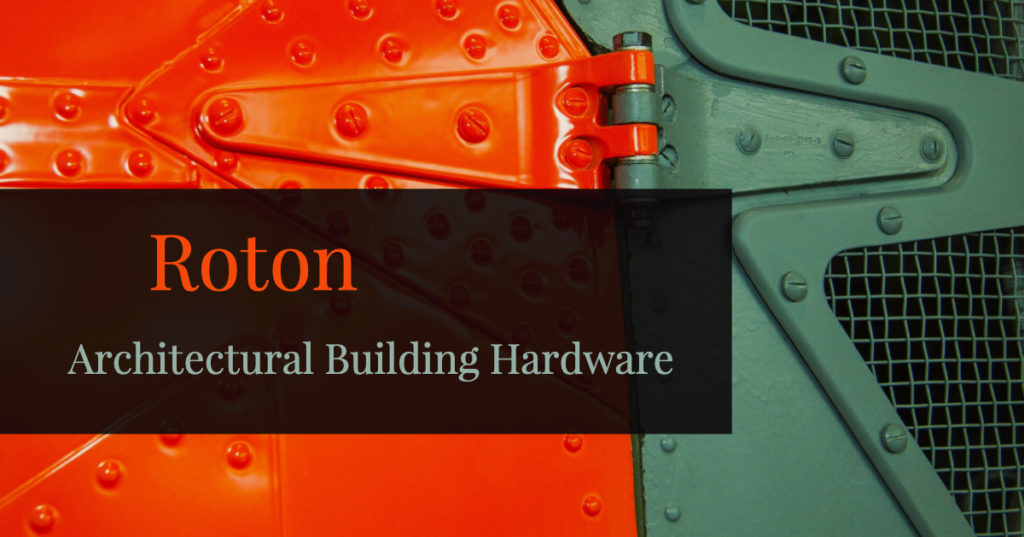 When it comes to top-quality continuous door hinges for commercial, institutional and industrial applications, our team of door techs here at
Jersey Architectural Door & Supply Co.
have one brand name that always comes to mind:
Roton®
. Roton architectural building hardware is an industry-leader in terms of hinge design, performance and durability, and as a door hardware supply company we are proud to offer our customers unrestricted access to their complete catalog. From light-duty to standard-duty to heavy-duty, Roton® has continuous hinges perfect for any entryway application where superior control and durability is key. Continuous hinges run along the full length of a door, allowing the door's weight to be evenly distributed across the entire hinge. This helps reduce wear and tear, prolonging the lifespan of a door and its frame and helping to cut down on maintenance costs. Within the architectural hardware industry, these Roton architectural building hardware hinges are specially designed for doorways where heavy doors are subject to regular use and abuse.
Roton® has its place among the top architectural building hardware brands we stock here at
Jersey Architectural
. Along with names like
Adams Rite™
,
PEMKO™
,
Assa AbloyBest™
,
Stanley™
, Roton® has made its mark in the commercial and institutional construction industries as a testament to quality craftsmanship. It offers product lines for any type of entryway application, from the lightest-duty application, to those where complete security and safety is key. And with our one, five and 10-day QuickShip™ options, the Roton® door hardware perfect for your building project is easier to come by than you might think.
Roton®'s Extensive Product Catalog Includes A Number Of Continuous Hinge Series, Including:
500 Series Light-Duty Continuous Hinges: For sheet metal or wood applications, these light-duty continuous hinges come in concealed leaf, half-surface and full-surface versions.

750 Series Concealed-Leaf Continuous Hinges: These aluminum concealed leaf continuous hinges offer plenty of lock-side clearance on a 5/16 (8mm) hinge side.
780 Series Concealed-Leaf Continuous Hinges: One of Roton®'s most extensive continuous door hinge line, the 780 Series comes in standard-duty, heavy-duty, and lead-lined models, offering builders a wide variety of door hinge options for commercial and institutional applications.
780 Series Full-Surface Continuous Hinges: With a fire rating of 3 hours (metal) and 90 minute (wood composite), this continuous hinge from Roton® requires a clearance of 1/32" (1mm) minimum hinge-side.
780 Series Half-Surface Continuous Hinges: Roton's half-surface continuous hinges require 5/32" (4mm) minimum clearance hinge-side, with standard lock-side clearance. In addition, frame reinforcement isn't required up to 200 lbs., whereas heavier weights are directed to use 16-guage channels.
1200 Series Extra Heavy-Duty Concealed Leaf Hinges: These lead-lined models are specialized for X-Ray room doors, with a double row of screws to straddle lead, and frame and door leaf alignment ribs for proper hinge and door location.
Want To Know More About Roton Architectural Building Hardware Offered By Jersey Architectural?
Give Our Friendly Techs A Call Today At: