Expertly Crafted Residential Exterior Doors, With Plenty Of Custom Glass & Color Options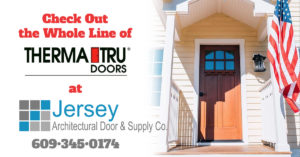 Therma-Tru Residential Exterior Doors are engineered to resist leaks and drafts, help a home's energy efficiency and provide protection from the elements. The Ohio-based manufacturer builds its doors with state-of-the-art residential exterior door components, from sills that help channel moisture away from a home, to corner seal pads that prevent drafts from infiltrating the bottom corner of a door system. And Therma-Tru Doors are completely customizable, right down to the texture, color, hardware, decorative glass inserts and more. For homeowners and builders looking for residential exterior doors that flawlessly combine cutting-edge energy-saving technology with sleek designs that will stand up for decades, consult the Therma-Tru Catalog first.
Therma-Tru offers half a dozen door collections, including the decorative, premium entryways in its Classic-Craft® Collection, the popular mahogany or oak wood-grain fiberglass doors in its Fiber-Classic® Collection, durable, sleek and paintable doors in any panel design, size and style with its Smooth-Star® line, residential exterior doors in contemporary styles with clean lines, crisp angles and energy-efficient engineering with its Pulse® line of products, the affordably styled Profiles™ line and Therma-Tru's conventionally crafted doors of its Traditions line.
Therma-Tru Residential Exterior Door Supply In The Tri-State Area At Industry-Leading Prices
Here at Jersey Architectural Door & Supply Co., we know what goes into making an elegant, durable residential exterior door. We have grown our company over the past century, earning the trust of Northeast U.S. customers by only stocking quality products from the most-trusted manufacturers – manufacturers like Therma-Tru.
Our in-house team of architects is available around the clock to help with any design consulting and installation needs, and can offer advice on which line of Therma-Tru residential exterior doors is best suited to your project and – most importantly – your project's budget.
Entry Door Replacement – Ranked As One Of The Most Cost-Effective Home Remodel Projects
When residential exterior door customers choose to replace their old entryway doors with sleek, energy-efficient Therma-Tru Doors, they are making a wise home investment decision on two fronts: most obviously, the new Therma-Tru Doors will save utility costs by helping to keep hot air outside in the summer and warm air inside in the winter. But when it comes time to resell, homeowners' wallets will feet a little fatter thanks to the fact that entry door replacement is one of the most lucrative home remodels based on resale value.
According to a Remodeling.hw.net's annual "Cost vs. Value Report" for 2018, entry door replacement ranked third nationwide this year for cost-effectiveness out of 21 popular remodeling projects, with more than 91 percent of average entry door replacement costs recouped at time of sale. Garage door replacement and manufactured stone veneer were the only two to rank higher, with 98.3 percent and 97.1 percent, respectively.
Have More Questions About Therma-Tru Residential Exterior Doors?
Let Jersey Architectural Help.
Give Us A Call Today At: