Interior Doors Built By A Trusted NJ Door Manufacturer, Delivered To Your Doorstep By A Leading NJ Door Supplier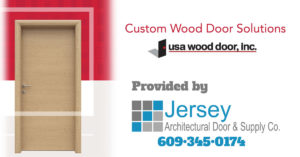 Though relatively new to the U.S. commercial and architectural door industry, USA Wood Door has already earned a reputation as a top interior door builder. The small Thorofare, New Jersey-based manufacturer opened in 2000, and has since made such an impressive entrance into the market that Masonite International Corporation moved to acquire it 2015. USA Wood Door Interior Doors combine functionality with economical building materials and a quick production process to bring residential and commercial interior door customers machined, custom-sized and value-added unfinished and prefinished doors in short lead times.
Choose Between Particleboard Core, Mineral Core, Hollow Core Or Composite Lumber Core Interior Doors
USA Wood Doors interior doors come in a variety of product lines, divided mainly based on core composition. Composite lumber and particleboard core interior doors have specific strength and durability factors, each appropriate for a range of applications, while mineral core doors provide great fire resistance. Most wood core doors built by USA Wood Doors have at least a 20 minute fire rating, while its fire resistant mineral core doors have a fire rating between 45-90 minutes.
Architectural Series
Commercial Series
Economy Series
USA Wood Door Interior Doors On Display Now At Jersey Architectural's Atlantic City Showroom
Here at Jersey Architectural Door & Supply Co., we like to give our customers a clear idea of what they are buying before they buy it. That's why we've set up an extensive showroom in Atlantic City to give our Tri-State Area customers the ability to see a wide variety up doors from top U.S. suppliers up close and personal. And while you are here, you'll get all your questions answered about which USA Wood Door interior door fits your project and your budget best. So check out USA Wood Door's online catalog of product lines, and then stop into our showroom to get a look at the real thing.
A Full-Service Residential Door Distributor, Jersey Does Installs, Too
Unlike many of our Northeast U.S. competitors, Jersey Architectural Door & Supply Co. is a full-service distributor and installer of residential doors. So if you decide your door needs a last minute tweak, our on-site fabrication shop will get it done. Need a residential interior door installed or replaced? We can schedule an appointment for your home or project with on-time, budget friendly service by our union-trained door service professionals.
Want More Information About USA Wood Door Interior Doors?
Give Jersey Architectural A Call Today At: