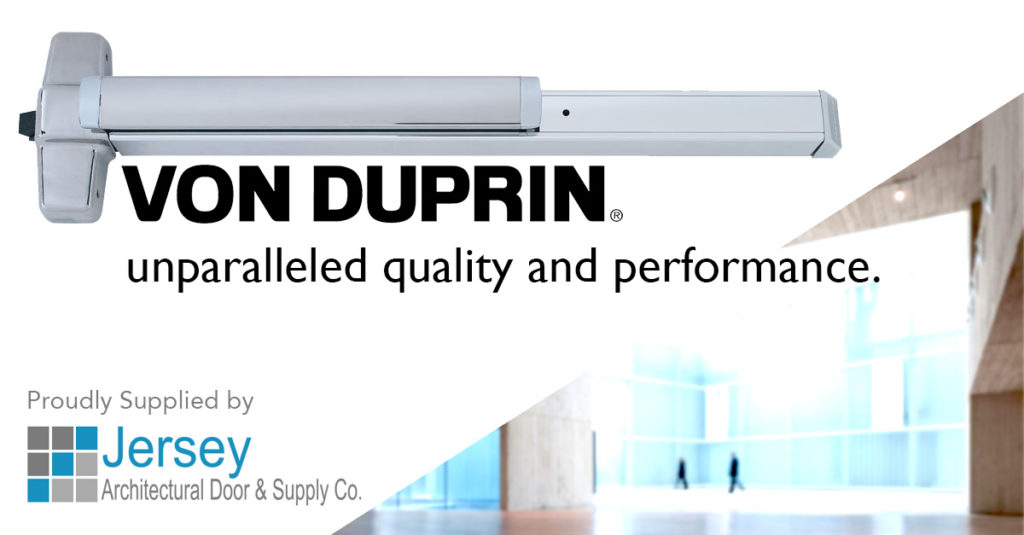 Von Duprin Exit Devices: Over A Hundred Years Of Commercial Door Hardware Innovation
From the invention of the world's first push bar-style exit device until today, Carmel, Indiana-based exit device builder Von Duprin has led the industry in commercial door hardware design and innovation. Originally founded in 1908 as a company building exit devices that allowed for the rapid, safe evacuation of buildings in an emergency, Von Duprin has grown over the years into a major player in the door exit hardware industry. The company builds handsomely crafted cross-bar, touch bar and recessed exit devices, in addition to a range of security and ease-of-access solutions for exit devices, including hurricane/tornado-resistant hardware, quiet latch retraction technology, security indicators and electronic switches.
Von Duprin is a subsidiary of Allegion, the Dublin, Ireland-based security products giant which sells its product brands in more than 130 countries around the globe. With a century of innovation under its belt and the financial backing of a globally renown parent company, Von Duprin has continued to push the envelope in bringing commercial building hardware customers the safest and most reliable exit devices and door hardware accessories on the market today.
Jersey Architectural & Von Duprin – The Best In Exit Device Supply, Installation And Repair
Here at Jersey Architectural Door & Supply Co., we know a truly superior commercial door hardware product when we see one. That's why we continually stock a range of Von Duprin Exit Devices and associated hardware products in order to help our customers build safe, easy-to-access commercial and institutional spaces. Von Duprin products can be seen throughout our Atlantic City showroom, where our customers can visit and see for themselves the flawless operation and sleek looks of these premium exit devices.
Cross-Bar Exit Devices: The 55 Series and 88 Series are classically designed exit device crossbars in both narrow stile and wide stile designs, respectively. Commonly seen in retro-inspired architectural and historical buildings, the 55 Series brings with it an old-fashioned feel, while the 88 Series is Von Duprin's standard device for crossbar applications.
Recessed Exit Devices: These recessed push pads are fully integrated within the door to protect their hardware from abuse. The 94 Series and 95 Series are built with smooth mechanism cases and grooved mechanism cases, respectively, and are low-profile devices compatible with hollow metal doors. These series are used most commonly in hospitals, among other applications where entryways must admit large volumes of equipment and people.
Touch Bar Exit Devices: Von Duprin's touch bar exit device models includes the 33/35A Series of narrow-stile, heavy-duty push pads that have been certified to the highest industry standards, often used in schools, hospitals and government buildings. There's also the 98/99 Series of high-performance, heavy-duty push pads with many custom options, as well as the 22 Series Exit Device; an economical alternative that adds a touch bar styling to any type of door.
Exit Device Options: Von Duprin offers tornado/hurricane-resistant models with reinforced top and bottom latch hosing and vertical rods for reinforced strength, models that limit operational noise, as well as security indicators, electronic switches and more with its extensive catalog of exit device accessories.
Give Our Knowledgeable Door Techs A Call Today At: