Want The Beauty Of Wood Windows Without The Hassle Of Maintaining Them? WinTech Woodgrain Residential Windows Are Just The Trick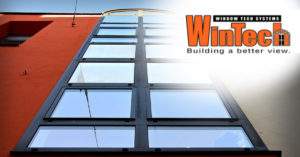 Have you ever looked around your house and longed for the handsome look of wood windows? Usually there are a dozen reasons for the contrary – the maintenance, the rot, the splintering, the peeling finish. But with WinTech woodgrain residential windows, all of the worries of real wood are gone, and your house guests will never be the wiser. That's because WinTech manufactures its faux-wood vinyl residential windows to look and feel exactly like real wood, netting homeowners all of the benefits of wood window frames with none of the headache.
A Malta, N.Y. window manufacturer, WinTech builds both aluminum and vinyl windows, with its residential market dealing mostly with vinyl designs, including residential mechanical and welded double-hung. The windows achieve impressive thermal performance with the help of Low-E glass and argon-glazed sashes, enough so to achieve Energy Star ratings. They also resist swelling, shrinking, splitting and cracking over the course of many years of heavy wear, much unlike real wood.
Get WinTech Woodgrain Residential Windows Shipped To Your Door In No Time With Jersey Architectural's QuickShip™ Options.
Here at Jersey Architectural Door & Supply Co. – South Jersey's premiere building supply house – we know what it takes to build a truly handsome faux-wood window frame. That's why we regularly stock quality woodgrain products from manufacturers like WinTech. We know our customers will get many years of hassle-free, maintenance-free enjoyment of their woodgrain window frames when they choose WinTech, and with Jersey's affordable installation options from its in-house team of factory-trained carpenters, getting the WinTech woodgrain residential windows you need has never been easier.
We ship windows directly to your doorstep, with one, five or 10-day QuickShip™ options. Free ground shipping is also available for window customers who don't mind the wait.
WinTech's Catalog Of Vinyl Residential Windows Includes:
2000 Series: Fixed, double hung or double slider, this 3¼" window is customizable for any application, and has operable sash and fixed lites. WinTech builds these windows with fusion-welded corners and multiple hollow chambers designed for structural strength. Factory-assembled multiple windows with mulled jambs provide ease of installation.
3000 Series: Fixed, single hung or single slider windows, containing one operable and one fixed sash. This 2 ¼" frame of windows has operable sash and fixed lites.
Every WinTech vinyl residential window is customizable with options like stainless steel security screens, greater thermal insulation and blinds-between-the-glass for easy cleaning and reduced child cord hazard.
Have More Questions About WinTech's Woodgrain Residential Windows?
Get The Answers You Need Today With A Fast, Easy Call To Jersey Architectural At: